Carrot raita recipe with step by step pictures
Raita or Pachadi is a South Indian Yogurt-based condiment.It is a simple preparation of adding veggies or fruits to beaten curds .Raita also has a cooling effect on the palate.
I remember posting this recipe in the initial day of blogging.This is one of my favorite raitas and mom had made this several times during my stay at home when I had come down for delivery.
I wanted to put something on the blog and this one was made when amma had prepared Bisi Bele Bhath for some guests who came to visit me.
The same evening I posted this recipe and was so happy that I had recorded a favorite recipe on the blog!
When I went back now [June 2017] to see which posts needed some decent pictures, this was the one that stood first.
The earlier pic had the bisi bele bhath and the raita served on a plantain leaf along with a pappad. It definitely did not look appetizing!
I wanted to make this specially for the blog. So when I made this family favorite vegetable pulao, I paired it with this raita that also happens to be Lil Angels favorite.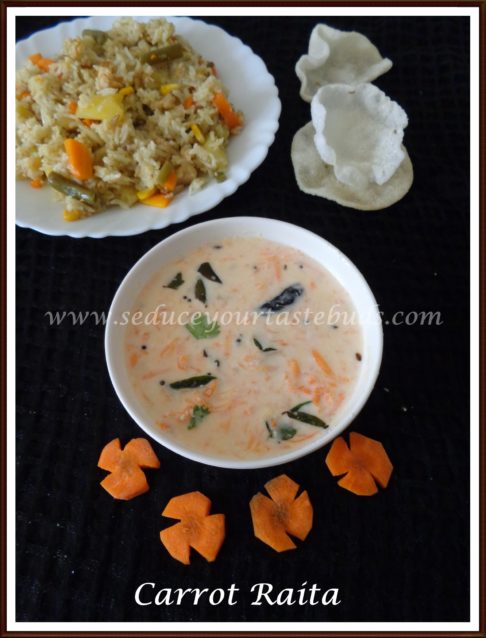 How to make Carrot Raita Recipe
I used:
Curd – 1 cup
Carrot, grated – 2,small
Salt – to taste
Seasoning
Oil – 1 teaspoon
Mustard seeds – ½ teaspoon
Urad dhal – ½ teaspoon
Cumin seeds-1/2 teaspoon
Red chilies – 1,broken
Curry leaves- a few
To Garnish
Coriander leaves, finely chopped
Beat the curd well and keep aside. Peel and grate carrot and add to the curd

In a small pan heat oil and add mustard, urad dal.When it pops,add red chili and curry leaves.

Once the dal turns brown, pour the seasoning into the yogurt bowl. Add salt .Mix well.Garnish with coriander leaves.

Serve as a side with rice / Roti. We had it with Vegetable Pulao.