Updated with better pics and write up on 25/06/2017
This post was originally published around 5 months after I started blogging.I started blogging a month before Lil Angel was due. I was bored and needed something to keep me occupied! Back then, 9 years ago, blogging was a sort of hobby for me.
I told myself that I would post one recipe a week and that's how things were for a while. I still remember getting excited seeing the first comment on the blog!!
Then slowly the number of posts grew as did Lil Angel! Sometime I would get so carried away that I would post 4-5 recipes a day!
Now I have come to a pace where I space the posts and shoot better[if not the best] pictures for the blog.
In those lines, I am updating the old posts with decent looking pics and this is one of first few posts that I am starting with.
In fat this post did not have a picture! When I made this apple milkshake last week, I made sure to click pics for the blog.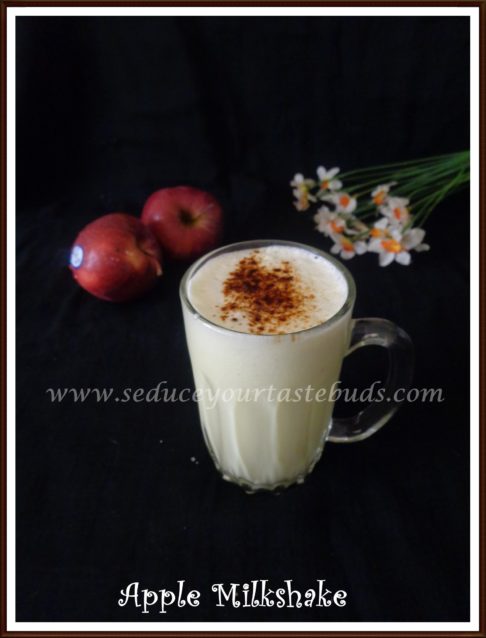 I make several changes to the basic recipe and it depends on my mood and the available alternatives.
The base is apple + milk+ sweetener. Sometimes I add a flavoring like cinnamon / cardamom. The sweetener may be cane sugar / brown sugar / honey. I have even tried it with soy milk but the kiddo was not too fond of it.
How to make Apple Milkshake Recipe
I used:
Apple – 1
Chilled Milk-150ml
Sugar – to taste
Cinnamon sugar- 1/4 teaspoon [adjust to taste]
Cocoa powder to garnish [optional]
Peel, core and chop the apple into small pieces. Take it in a mixie jar.

Add cinnamon sugar, sugar, and a little milk and blend.Once the apple is blended to a smooth paste, add remaining milk and blend for a a few seconds.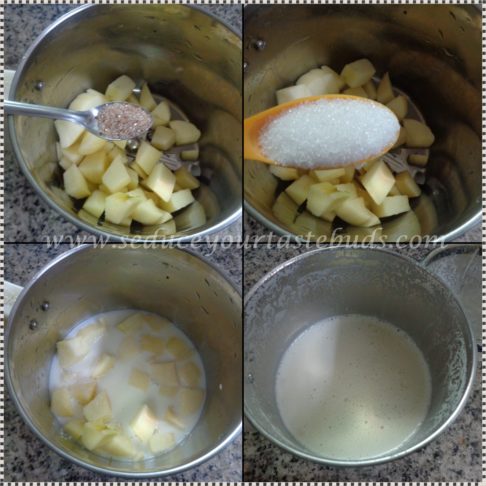 Pour into a serving glass and serve immediately sprinkled with a little cocoa powder.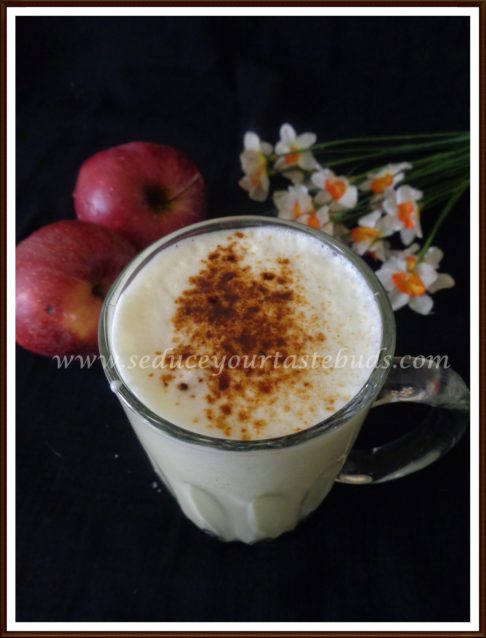 Note:
Adding cinnamon sugar is optional.
Honey or any other sweetener can be use instead of the regular sugar.
I generally don't strain the milkshake.
Chocolate flavored drinks like boost can be sprinkled on top instead of cocoa powder.