This recipe is from my mom,very easy to prepare
You need:
Coconut – 1 cup
Jaggery,powdered-1/2 cup
Coconut milk – 2 cups[thick]
Cardamom powdered- a pinch[Optional]
Roasted cashews and raisins to garnish
1.Grind the coconut and jaggery without adding water to a fine paste.If required add a little milk/water while grinding.
2.In a pan,pour in the coconut milk and bring it to a boil and add the ground paste and cardamom.
3.Simmer till it thickens.
4.Serve hot or cold garnished with cashews and raisins.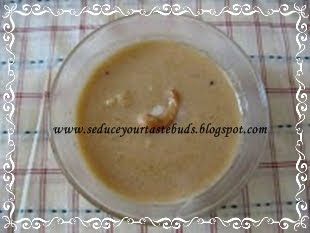 If you are in a hurry to prepare this payasa,milk can be used instead of coconut milk.
Happy cooking…