Ulundhu vadai is a deep fried snack made from urad dhal.It is usually had as a snack or with idli and pongal.Almost all the south Indian feasts will feature this vadai for breakfast.
This starter will go to EC's WYF Salad/Starters/Soups .
You need:
White urad dhal- 1 cup
Rice flour-2 teaspoons[For crispiness]
Green chillies-3,finely chopped
Peppercorns- a few
Curry leaves – a few
Oil to deep fry
Salt to taste.
Soak urad dhal for 5 hours
Drain well and grind to a smooth paste till fluffy without adding water.Sprinkle very little water if needed.
Put it into a bowl and add the rice flour ,chopped curry leaves,chillies,peppercorns,salt and mix well.
Heat oil in a pan
Take a greased plastic sheet ,put a dollop of the batter on it ,flatten lightly and make a small hole in the centre.
Gently take it off the sheet and lower it into the hot oil.
Simmer and gently turn over after a few seconds and fry till golden brown on both sides.
Use a slotted spatula and drain the excess oil
serve with coconut chutney and sambar.
If you like to add onions,add it to the batter [finely chopped] and follow the same steps.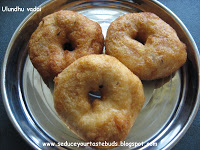 This vadai can also be soaked in sambar and served as sambar vadai.Thayir vadai is another famous snack.Check out the recipe here.The vadai can be fried as a ball without a hole in the centre.