Starting the recipe marathon with a sweet note…
This is the first dessert I tried on my own when I started experimenting in the kitchen.The first trial was a disaster as the kesari turned out powdery and didn't look appetizing but I did not let go.I tried it again with the mom's help and got the perfect finish.

You need:
White Rava[Suji] – 1 cup
Sugar – 1 1/4 cups [ if you want it a little sweeter use 1 1/2 cups]
Water -2 1/2 cups
Ghee – 1/2 cup
Roasted nuts[Cashew/Almonds] ,raisins fried in ghee
Elaichi / Cardamom powder-a pinch[Optional]
Orange/Yellow food color- a pinch [dissolved in 1 teaspoon milk]
Dry roast rava till a nice aroma arises and it turns golden brown.Keep aside.
In a heavy bottomed pan boil water and add food color and the roasted rava in batches.Keep stirring to avoid lumping.
Simmer and keep stirring.
When rava is almost cooked[mash in between your fingers to check] add sugar,cardamon powder and stir well.
The kesari will turn a little watery after the sugar has melted.
Wait till the sooji aborbs the excess water and add ghee little by little.
Next goes the roasted nuts and raisins fried in ghee.
When the right consistency comes, the kesari will turn fluffy.[Until then keep stirring]
Remove from heat.Serve hot or cold.
Friuts like pineapple,apple etc can be cut into tiny pices and used as a garnish.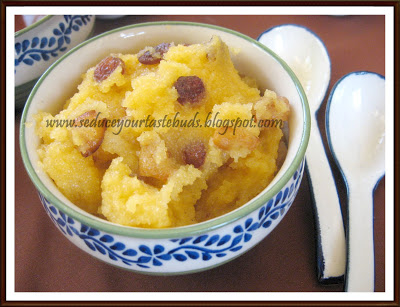 [Photo updated – 25/4/12]
Check out what these girls are up to
1) DK 2) Siri3) Srivalli4) Ranji5)Curry Leaf6)Medha7)Priya8)Bhawna9)Raaji10)Ruchii
11)Anu12)Kamala13)Roopa14)Divya Kudua15)Rekha16)Divya M17)Lakshmi18)Raaga
Bon Appetit…