Breakfast is now becoming a luxury to most people-not because they can't afford it,its more so because they don't have enough time to prepare a healthy breakfast when they are busy getting ready to go to work/studies or bored eating the same old cornflakes for breakfast.This iron rich breakfast it very healthy and can be fixed in a jiffy.
You need:
Aval[Poha/Pressed rice] – 1 cup
Seasoning:
Mustard-1 teaspoon
Urad dhal – 1 teaspoon
Gram dhal – 1 teaspoon
Red chillies-2,broken into small bits
Grated coconut – 2 tablespoons
Roasted groundnut-2 teaspoons
Curry leaves a few
Onion-1 small,finely chopped
Salt to taste
Oil-2 teaspoons
1.Wash aval ,drain and put into a bowl and sprinkle a little water and let it soak for some time.[Don't add too much water as the aval will turn soggy]
2.You will know that it is soaked well when it turns soft and mashes between your fingers.
3.Heat oil and add the mustard .
4.When it splutters add the urad and gram dhal fry till it turns brown.
5.Put in the onion and saute till it turns translucent.
6.Add the chilles,coconut,curry leaves,roasted ground nut and fry for a minute.
7.Put in the aval and add salt and mix well
8.Remove from heat and serve hot.
Sending this across to Srivalli's Rice mela.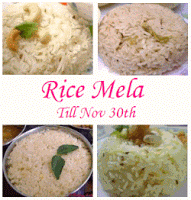 Also @ Rice mela-
Rice sevai
Lemon Sevai
While I was preparing this one lets visit my team mates kitchen to see what they are doing in RC #2 day 6
1) DK 2)Siri3)Srivalli4)Ranji5)Curry Leaf6)Medha7)Priya8)Bhawna9)Raaji10)Ruchii
11)Anu12)Kamala13)Roopa14)Divya Kudua15)Rekha16)Divya M17)Lakshmi18)Raaga 19)Lakshmi Venkatesh20)Sripriya21)Viji22)Pavani