Hereis a yummy rice variety with crunchy capsicum and peanuts.This is quick and easy to make..
You need:
Cooked rice -1 cup(each grain should be separate]
Capsicum – 2 big,deseeded and
Ghee/oil-2 tablespoons
Mustard-1 teaspoon
Jeera-1 teaspoon
Curry Leaves- a few
Salt to taste
Roasted groundnuts-2 tablespoons
Coconut-2 teaspoons,grated
Roast in Ghee[1 teaspoon] and powder:
Red Chillies- 3 [More if u want it spicy]
Jeera-1/2 teaspoon
Urad dhal-1 teaspoon
Roasted groundnuts-1 tablespoon
Spread the cooked rice on a plate and drizzle 1 tablespoon ghee over it and mix lightly using a fork.
Heat the remaining ghee and add and jeera and wait till they splutter.
Add the curry leaves and when they turn crisp,add the sliced capsicum and cook for 3-5 minutes.
The capsicum should not turn soft, ensure that they are crunchy.
Add salt,cooked rice,grated coconut and the powdered spices and combine well.
Let the flavors blend for a few minutes.
Add roasted groundnuts,mix well and remove from heat.
Serve hot with a raita.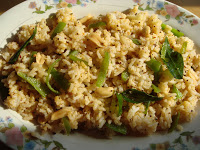 Sending it over to Srivalli's Rice mela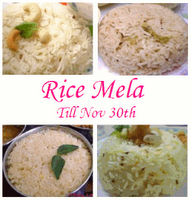 Also in the rice mela…
Rice Sevai
Lemon sevai
Aval Upma
Curd rice
Curd aval
Ridgegourd rice
Check out my team mates on RM # 2 day 26
DK 2) Siri 3) Srivalli 4) Ranji 5)PJ [That's me]6)Curry Leaf 7)Medha 8)Priya 9)Bhawna 10)Raaji 11)Ruchii
12)Anu 13)Kamala 14)Roopa 15)Divya Kudua 16)Rekha 17)Divya M 18)Lakshmi 19)Raaga 20)Lakshmi Venkatesh 21)Sripriya22)Viji 23)Kamalika24)Pavani25)Karuna26)Roochi