You Need:
Coriander leaves – 1 bunch
Cocount[grated] – ¼ cup
Green chillies – 4 [adjust to taste]
Tamarind – gooseberry size
Salt to taste
Seasoning:
Oil – 1 tsp
Mustard – ¼ tsp
Split white urad dhal – ¼ tsp
1.Clean the coriander leaves and chop them and keep it aside.
2.Grind these coriander leaves, coconut, chillies, tamarind and salt with limited amount of water so that the chutney remains thick.
3.Remove it in a bowl and season.
4.Mix well and serve with idli,dosa or rice.
[You can soak tamarind in small quantity hot water for a few minutes or microwave it with a little water for a minute or two before grinding.You can also saute coriander leaves with a little oil before grinding.]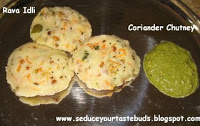 Check out my team mates on RM # 2 day 14
1) DK 2) Siri 3) Srivalli 4) Ranji 5)PJ [That's me]6)Curry Leaf 7)Medha 8)Priya 9)Bhawna 10)Raaji 11)Ruchii
12)Anu 13)Kamala 14)Roopa 15)Divya Kudua 16)Rekha 17)Divya M 18)Lakshmi 19)Raaga 20)Lakshmi Venkatesh 21)Sripriya22)Viji 23)Kamalika24)Pavani25)Karuna26)Roochi