One of the things that I found out about my Chinese friend is that she liked my cooking!!!I am a person who eats non spicy stuffs and that clearly reflects in my cooking.But she would say my cooking is a little spicy(!) but tasty.
When we had invited her for dinner for the very first time,I had prepared poori,dhal and veggie pulao.We taught her to 'eat' poori and dhal and at first she was hesitant and then she fell in love with the dhal!!She helped herself with a bowl of dhal and happily ate it with relish.Since then it has become a sure dish when she comes over for breakfast/lunch/dinner.
This dhal is so simple that you can start preparing this even after guest come home-I mean, the unexpected ones.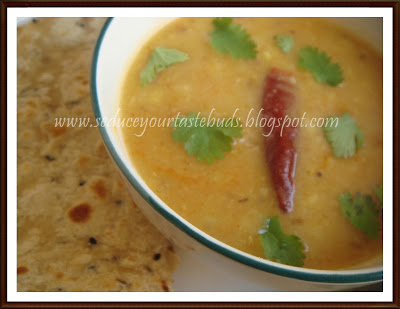 You need:
Moong dhal- 1 cup
Onion-1 ,finely chopped
Tomato – 1,roughly chopped
Garlic-5 pods
Chilli powder – 1 teaspoon
Curry leaves- a few
Coriander leaves- to garnish
Mustard-1 teaspoon
Jeera-1 teaspoon
Salt to taste
Oil-2 teaspoons
Pressure cook moong dhal with enough water along with garlic and tomatoes.
Cook till they are done but not too 'gooey'.
Remove from cooker and mash the tomatoes and dhal roughly.
In a pan heat oil and put in mustard and jeera.
When they crackle add the curry leaves.
Then put in onion and saute till translucent.
In goes the dhal-tomato mixture.
Add chilli powder and salt and mix well
A little water can be added if its too thick.
Simmer for a few minutes and remove from heat.Garnish with Coriander leaves.
Goes well with Poori,Chapathi and rice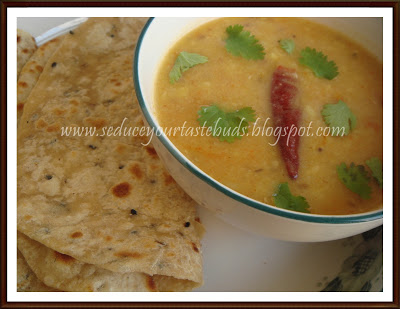 While I was preparing this let's see what my dear friends are stirring in their kitchen on RM #2 ,day 13,
1) DK 2) Siri 3) Srivalli 4) Ranji 5)PJ [That's me]6)Curry Leaf 7)Medha 8)Priya 9)Bhawna 10)Raaji 11)Ruchii
12)Anu 13)Kamala 14)Roopa 15)Divya Kudua 16)Rekha 17)Divya M 18)Lakshmi 19)Raaga 20)Lakshmi Venkatesh 21)Sripriya22)Viji 23)Kamalika24)Pavani
Bon Appetit…