This one is from mom who knows my love for curd and raitas.I was really struck by its taste and simplicity.A very different raita-no veggies used,just udhin hittu[urad dhal powder in kannada].This is a great side dish for veggie rice dishes like veggie pulao/briyani.
Prepare the powder in small batches and store.Use it when u are in a hurry to make a quick raita or when u are bored with veggie raita or need a change or u just don't have any veggies but need a raita with tomato riceor you need a light raita to go with a heavy briyani. And whats more -This preparation takes just 5 minutes.
You need:
White urad dhal- 5 tablespoons
Red Chillies – 3 [Adjust to taste,add more if u want a spicer version or add when seasoning]
Dry roast urad dhal and chillies till the dhal turns brown.Powder and store in an airtight container.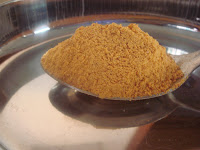 To prepare the raita,take 1 cup of curd, put in salt and add 2 teaspoons of udhin hitttu and beat well without any lumps.
Heat 1 teaspoon oil and when hot add 1/2 teaspoon mustard seeds,1/2 teaspoon jeera,a few curry leaves [and 1 0r 2 pieces of red chilly-optional] and wait till the seasoning splutter.Then pour over curd mixture and mix well.It is now ready to serve..
Easy isn't it!!!
Check out my team mates on RM # 2 day 20