High class nutrients at an affordable price.!Ragi ,also known as finger/African millet,is a treasure trove of nutrients. 100grams of ragi provides 328 calories ,72g of carbohydrates,7.3 g protein 1.5g fat and 3.6g of fibre.It is also rich in important minerals like calcium, phosphorus and iron and in methionine-an essential amino acid. Ragi is also a better choice for diabetics.
Right from being used as a weaning food to alcoholic preparation,ragi is used various culinary preparations-both as whole or in powdered form.The sprouted ragi seeds are used to make porridge based on the fact that it is highly nutritious and easy to digest.Powdered ragi finds its place in puddings,baked goodies and porridges.Arake is a sweet malt famous on Ethiopia.
Ragi sevai is a very simple and an easy one prepared from ragi flour.These days we get the ready made varieties and all you have to do is put them in boiling water or steam them for a few minutes and season to taste.
I got a packet of ready made Ragi sevai when I came from India and prepared this simple breakfast.The direction on the pack said the sevai had to be immersed in boiling water for exactly 5 minutes and drained.[That's exactly what I did]. I heated a little oil in a pan and added mustard,jeera,curry leaves , red chillies and when the mustard spluttered,added chopped onion and sauteed till brown.Next, in went the chopped tomatoes and cooked till soft.Finally,salt and the drained ragi sevai stirred into the veggies and served hot with sambar and coconut chutney.Yumm….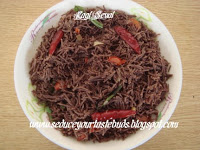 Ragi sevai can also be had with sugar and grated coconut but since I am not fond of sweet stuff ,I prepared this savory breakfast.
Related Recipe:
Ragi Porridge-Weaning food