Chole and Bathura are a killer combo!!Originally from punjab,this combo is sometimes mixed n matched with other breakfast dishes like poori,chapathi etc and thats exactly what I did-I matched Chole with veggie chapathi.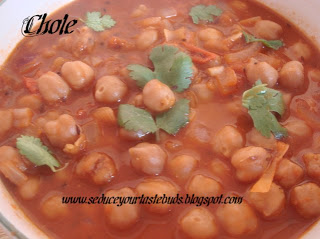 You need:
Channa /Chickpeas-1 cup
Tomatoe-2 chopped
Onion-1 Chopped
Jeera-1 teaspoon
Coriander powder-1teaspoon
Ginger garlic paste-1 teaspoon
Tamarind extract-1 tablespoon[Thick]
Chilli powder-1 teaspoon
Tea bag-1[Until recently I didn't know teabags had to be added during the cooking of chickpea.I guess it imparts a good flavor and color to the dish]
Bay leaf-1
Oil-1 tablespoon
Salt to taste
Coriander leaves to garnish.
Soak the chickpeas and pressure cook it with the bayleaf and tea bag.The chickpeas must be cooked but not mushy.Keep the cooked chickpeas aside
Heat oil in a pan and put in jeera and when it splutters put in the onion and saute till soft.
Put in the ginger garlic paste and cook till raw smell goes off.
Add the tomatoes and cook till it is mushy.
Next add the coriander powder,tamarind extract,coriander powder,chilli powder,salt and cook till the raw smell diappears.
Remove the teabag and the bayleaf from the cooked chickpeas [and drain excess water if required.]
Put in the cooked chickpea along with the liquid into the pan and simmer stirring often.Add a little water if u want more gravy]
Mash a few chickpeas with the ladle to thichen the gravy.
Let it thichken a bit and remove from fire.
Serve garnished with coriander leaves.
Sending this packing to Sirivalli of cooking 4 all seasons for My legume love affair,an event started by Susan of well seasoned cook and also to JFI-Chickpea hosted by Sometime foodie ,an event statred by Indira .