This is a simple stir fry that is bound to add color and flavor to your palette.
You need:
1. Purple cabbage – 1 cup, shredded
2. Coconut – 2 tablespoons, grated
3. Onion – 1 small, finely chopped
4. Salt to taste
5. Lemon juice – 1 teaspoon
Seasoning:
1. Mustard – 1/2 a teaspoon
2. Jeera/cumin seeds – 1/2 teaspoon
3. Urad dhal – 1/2 a teaspoon
4. Channa/gram dhal – 1/2 a teaspoon
5. Curry leaves a few
6. Grated ginger – 1 teaspoon
7. Red chillies – 3, broken into bits
8. Oil – 2 teaspoons
1. Microwave cabbage sprinkling a little water for 7 minutes or till cooked.
2. Heat oil in a pan and put in the mustard and jeera
3. When they crackle add the urad dhal and gram dhal and wait till it turns brown
4. Add the red chilies and curry leaves, ginger and fry till the curry leaves turn crisp.
5. Put in the onion and cook till it is soft
6. Add the cooked cabbage, salt, coconut and mix well
7. Serve with rice / Roti.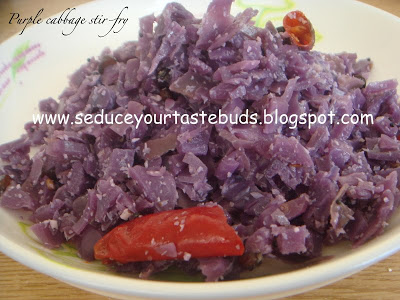 Just how colorful it looks!!!!
If you had read the list of ingredients carefully you would have noticed that I missed something in the cooking process! Now there is a little secret in that recipe, which I will tell you at the end of the post. [Don't be tempted to scroll down!]
When I first prepared this purple cabbage curry, it didn't turn out all this beautiful. Instead of finding purple colored cabbage in the microwave dish, I found blue cabbage!! I was shocked to see that color. Of course, blue is my favorite color, yet I had expected it to remain purple on cooking.
Then I remembered the practical classes in nutrition which I had done in college. We were taught about the changes that foodstuffs undergo on cooking and of course we had done some experiments on this very purple cabbage as well.
The purple color in the cabbage comes from a class of pigments called ANTHOCYANINS. These help to lower the risk of some cancers and are good for urinary tract health, memory function and healthy aging. They also appear highly protective against oxidative damage and heart disease.
Anthocyanins can turn blue when cooked in alkaline medium. Hence if the tap water we use in cooking contains alkaline minerals [and most often it does], the cabbage turns blue. This can be neutralized by adding acidic medium while cooking so that it can maintain the lovely purple color.
Adding acidic medium like vinegar, limejuice or wine ensure the purple color to stay as such. So that's what I did with that lemon juice in the list of ingredients! While cooking the cabbage, add 1 teaspoon of lemon juice – There you have the secret!!!
Though this purple cabbage stir-fry tastes just like its green counter part [without a tinge of the lemon flavoring], but the color is so pleasing that will make anyone who hates cabbage love this veggie!!
Hungry for another purple recipe?
Check out – Forbidden Rice Pudding