Talk about a protein rich breakfast-South Indian style and you will hear people telling you about 'Adai'.This is one simple dish that is packed with proteins!!
Adai is a rice –lentil based dish that looks like dosa/crepes but made with a more thicker batter and is also very filling. Though it involves soaking and grinding, it does not need to be fermented like dosa or idli batter before it can be used. Soak, grind and use the batter right away.
There are myriad variations and each family has a time tested recipe and here is mine,I do vary this each timed and the results never fail me.!!!Once I had a handful of various beans and I soaked them up with the usual stuff and it tasted great!This is one recipe that will never let you down.
You need :
Rice – 3 cups
Mixed lentils – 1 ½- 2 cups [Toor dhal,Gram dhal,moong dhal,urad dhal and/or any other pulse you have at hand. In case you add more pulses/dhal adjust the rice quantity accordingly]
Ginger- 2" piece
Cumin seeds/Jeera-1 teaspoon
Asafoetida powder – a pinch
Red chillies-8 [adjust to taste]
Salt to taste
1. Soak the rice,mixed lentils,redchillies,jeera for 4-5 hours if you live in a warm country or overnite if in a cooler place.
2. Drain and grind the mixture with ginger ,adding a little water.Take care not to grind it to a smooth paste/ make it too watery.. It must be thicker than dosa batter.
3. Mix in salt,asafoetida powder and salt.
4. Heat a griddle and pour a ladle full of batter in the centre and spread it to a circle.
5. Drizzle a little oil around the edges
6. When one side is cooked[the edges leave the griddle and u can slide the ladle easily under it], flip it over and cook.
7. Serve hot with a side dish of your choice.
After preparing the batter, there are many things you can add to it like
– Sauteed drumstick leaves- a handful. This adds to the iron content as well.
– Curry leaves and finely chopped onions-adds to the flavor
– Grated coconut
You can also store this batter in the refrigerator for a couple of days.
Now coming to the side dishes, there are plenty of matches for this one!! Yes ,you can have it with one or a combo of the following
Coconut chutney
Tomato onion chutney
Sambar
Honey
Butter
Avial- vegetables cooked in a creamy coconut gravy.Adai Avial is on the special menu in some restaurants!
Grated jaggery.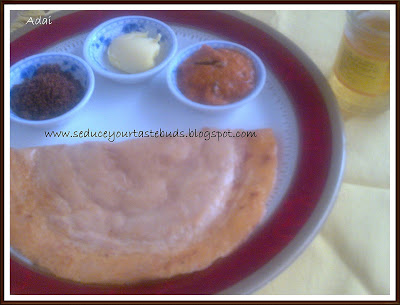 Adai served with grated jaggery,a dollop of butter,tomato onion chutney and honey!!
I once prepared adai with 'kathirikkai baji'- a brinjal based chutney like side-dish which tasted great..
Here is that recipe as well….
You need:
Brinjal – 1 large or 5-6 small ones
Tomato-1 small
Onion-1 small
Green chilies -2
Tamarind – a small piece[optional]
1) Chop the veggies roughly
2) Pressure cook brinjal, tomato, onion, green chilies ,tamarind with a little water till fully cooked [ I cooked for 10 minutes].Never mind if it gets mushy.
3) There are two ways that u can proceed after this
A] Mash the veggies well with a potato masher .Heat a pan with a little oil and season with mustard,jeera,red chilies[optional],curry leaves and pour it over the veggies.Add salt mix well and serve
B] Cool the cooked veggies and grind to a fine paste[like the one in the pic] and season as above.
Either way it tastes good….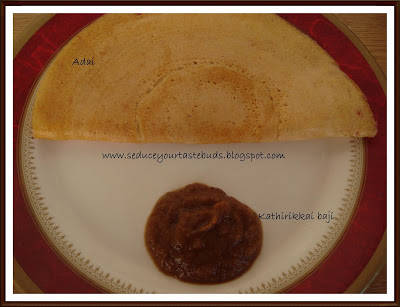 So,what do you like to have with adai???