Navarathri is well on its way and this festival is never complete without the mandatory sundal and that's the recipe I am going to share today. .
Sundal is boiled and seasoned legumes ,something like a salad,which is offered to God as well as distributed to the friends and neighbors when they visit our home to see the 'Kolu' for Navarathri.On other days it is eaten as a snack.
Let me start with the significance of Navarathri ,kolu,some memories and of course the sundal.
Navarathri which literally means 'nine nights' is one of the major festivals in India.Celebrated for 9 days ,it is the worship of the feminine form of the Supreme.People from different parts of India celebrate in their own style but the basis is the same.
The 9 days are divided to sets of three days where 3 different Goddesses are worshiped in Her different forms of manifestations -Durga[destroyer of our vices, negativity and impurities] ,Lakshmi [provider of inexhaustible spiritual and worldly wealth] and Saraswathi[Goddess of wisdom].
During Navarathri,there us an exhibition of dolls in each household.Marapachi dolls, wooden figurines of a boy and a girl, are one of the dolls that find their positionwithout fail in the 'Kolu'.The others are statues of various Gods and Goddesses in different materials and the their sizes are a matter of individual choice,figures from day to day life,animals,birds,etc.
There are even a whole bunch of miniature kitchen utensils that are really adorable.Of course it is not complete without a pair of pot bellied shop-keeper and his stout wife with an array of groceries[in small cups] spread in front of them.The kolu arrangements are not disturbed for the entire festival
Neighbors and friends are invited to have a glimpse of the 'kolu' and before they leave they are offered a pouch with a few betel leaves,betel nuts,a couple of fruits[mostly bananas] and a small gift, like pens for children,a kum-kum box for women etc but these gifts are not mandatory. Along with this comes a packet of tasty sundal which is of course, mandatory.Visitors, especially the children are asked to sing for the small audience present.
For me,Kolu is the most interesting aspect of Navarathri.The day before the festival starts,steps are arranged usually in the puja room or in the main hall and dolls made of various materials are arranged on it.I would eagerly wait for this festival as it would bring out all the beautiful dolls that mom had collected over the years as well the ones handed over to her by her mom and her grandmom.Would you believe me if I told you that there are some dolls at home that are nearly a 100 years old!!These dolls were given to my grandmother by her mother in law!We treasure these dolls and they means a lot to us.These dolls are made of porcelain and are still in the best of their beauty without a bit of chip or fading of color.What exquisite craftsmanship!!
Each year we buy at least a few dolls to add to our collection and shopping for it is a thrill.We used to go some shops which sprout up during this season or but them from the street hawkers.There would be hawkers calling out their wares,carrying them on huge baskets over their heat or in a push car,walking through the streets.Anytime we hear them call out,I would be the first one to rush out and call them to check out the dolls.
The other thing that I looked forward to is the park or zoo that I would be allowed to create beside the main 'Kolu'.Dad would help me lay out a large plastic sheet and we would spread sand over it and let our imagination run.Sometime I would scatter a few mustard seeds on the sand and they would sprout as 'trees' for my miniature zoo or forest.I would place animals and birds and people in my park and admire my 'creation'.
Another interesting thing during navarathri is a sort of 'competition' amongst friends to see whose home has more number of steps for the Kolu as there are predefined numbers for setting it up.The more the steps and more the dolls it houses,the greater our pride!
Mom would draw beautiful and colorful rangoli in front of the steps and light lamps around it.Rangoli is a form of art of drawing patterns using finely ground white powder and color powders.Some days it would be a colorful rangoli,other days would feature her rangoli with colored cereal grains and pulses and sometimes even rangoli on water and on glass.This is one of the arts that mom learnt from my grandmom- her mother in law!
Every evening mom would dress me up in beautiful traditional cloths and send me off with a box of kum-kum to invite my neighbors.I would feel so 'grown up' and important during these times..How I wish I could be a kid again…[I am sure all of you will agree with me on this statement]
Then comes the tasty part of Navarathri-the offerings prepared for the Goddess or the 'Neivedhyam '.Each day would see its share of sundal and I would look forward to savoring it along with the other snacks and sweets that she prepared.
Sundal,which is the easiest snack to prepare is chokeful of proteins as it is made with legumes.Dried legumes are soaked overnight and boiled and seasoned the next day.You can also use canned legumes[after draining them,of course] in case you forget to soak them the previous night.
Today I prepared sundal with peanuts and they tasted great.
You need:
Raw peanuts -1 cup
Salt – to taste
To season:
Oil- 1 teaspoon
Mustard- 1/2 a teaspoon
Jeera / cumin seeds -1/2 a teaspoon
Urad dhal,split -1/2 a teaspoon
Red chillies-2,broken into bits
Grated coconut-2 tablespoons
Grated ginger-1/2 a teaspoon [Optional]
Curry leaves- a few
Coriander leaves to garnish [Optional]
Pressure cook the raw peanuts with enough water for 15-20 minutes till soft but not mushy.Drain and keep aside.
Heat oil in a pan and put in mustard,jeera and dhal.
When the dhal turns brown,add the red chillies,curry leaves,ginger and saute for a few seconds.
Add the boiled peanuts,coconut,salt and mix well.
Remove from heat and serve garnished with coriander leaves.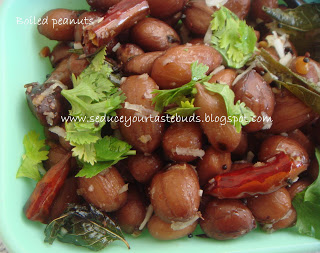 Wishing you all a happy Navarathri!!!
Sending this nutritious sundal to My legume love affair-15,this edition hosted by Sia of Monsoon spice,an event started by Susan