While browsing for kiwifruit recipe,I came across this one at About.com. It was the method and the ease of preparation that prompted me to try it. I have never made any jam or marmalade, but this one being so easy , with just a few ingredients and cooked in the microwave, was all that was needed to get me started . You can make this in less than 15 minutes.
The quantity of lemon zest and the sugar depends on your taste.The original recipe calls for zest of 1 lemon but I felt it was too much so reduced it.Also ,I didn't use the recommend 3/4th cup of sugar. You too can use your discretion to suit your taste buds.
You need:
Kiwi fruits- 3 ,ripe
Sugar-5 teaspoons
Lemon zest-1 teaspoon,chopped/grated
Lemon juice-1 teaspoon.
1. Peel kiwi and chop roughly, mash if needed.
2. In a deep microwave proof bowl, put in all the ingredients and microwave on high uncovered, for 5 minutes
3. Remove and stir to mix.
4. Return to microwave and cook for another 5 minutes or till it thickens.
5. Cool to room temperature
6. Store in a sterilized airtight container.
The instructions said it keeps well, if refrigerated, for a week. I used 3 kiwis and got around 100ml in a liquid measuring cup[see the pic].It was just enough for a day. In case you need more, adjust the quantities to get a larger batch.
The timings will vary hence when you microwave for the second time-step 4,keep an eye on it after 3 minutes to get the right consistency.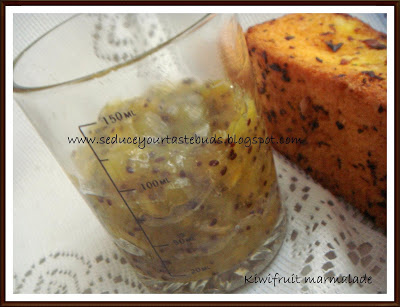 This is for the event hosted in my blog – AFAM-Kiwi fruit