I was surprised when I noticed that I had not made a post on tomato flavored rice.It is one of the easiest rice dishes and can be prepared in two ways.Best of all,one of the methods uses up leftover rice and saves us the trouble of thinking out ways to use it.
If you have leftover rice from the previous days dinner, put it in a bowl and leave in the fridge till you decide to make any dish with it.Doing so will keep the rice grains separate and you are sure to end up with a lovely looking flavored rice.
Today's tomato rice is an easy way to use up leftover rice.
You need:
Cooked rice,[grains sepreate]-2 cups
Tomato-3 ,ripe ,chopped
Onion-2 medium sized,sliced
Garlic-2 pods,sliced
Red chillies-3/Red chilli powder-1 teaspoon
Turmeric powder-a pinch
Curry leaves-a few
Mustard-1 teaspoon
Channa dhal-1 teaspoon
Asafoetida powder- a pinch
Roasted peanuts-1 teaspoon[optional]
Salt to taste
Oil-2 teaspoons
Heat oil in a pan and put in mustard,channa dhal,asafoetida powder,curry leaves and wait for it to splutter.
Add the onion,garlic,red chillies once the dhal turns brown and saute till the onion turns transparent.
Put in the tomatoes,turmeric powder .If using chilli powder,add it at this stage.
Cook till tomatoes are mushy.Stir in between.
If it the mixture is too dry,add a few teaspoons of water.
Put in the cooked rice,salt and mix well.
Take care that the rice does not get mushy.
Add the roasted peanuts and remove from heat.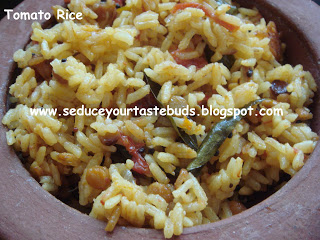 For other varieties of rice dishes check out Rendezvous with rice ,where you can find 20 different dishes to seduce your taste-buds.
Happy cooking….