This is another super easy dish that mom made today.It remained me of my childhood days when mom would prepare this for me.Today she prepared it for lil angel.
Serve this as a snack for your kids when they return home from school and watch them gobble it up and ask for more.
Three simple ingredients,3 simple steps yet it is a nutrition storehouse!!!Full of Iron and flavor,this takes just 5 minutes to prepare!!!Can you believe that!!!
Poha/aval/pressed rice ,jaggery and coconut weave a magical taste around this dish.It is a great dish for people with anemia as aval and jaggery are good sources of Iron.Sugar is replaced with jaggery and makes this snack all the more tasty and nutritious.Since it has zero[added] oil it is suitable for all ages and is easy to digest.
With so much of goodness in a dish and that too so easy to prepare,I just can't keep it to myself.So sending this to Food for 7 stages of life:Kids special hosted by two lovely bloggers Sudeshana and Radhika.
You need:
Aval/poha/beaten rice – 1 cup
Coconut,grated
Jaggery,powdered
Cardamom powder- a pinch[optional]
Wash the aval in a colander and transfer into a bowl.
Put in the coconut[the quantity is purely at your discretion],jaggery[according to taste] and cardamom.
Mix gently and serve.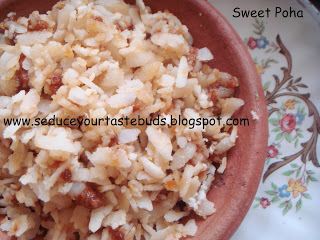 Note:
There are two varieties of Aval – the thick and thin varieties.
If you are using the thin variety, wash the aval in a colander and use immediately.If you let it stand too long,it will get soggy.
If using the thick variety,wash aval and put in a vessel.Sprinkle a little water,cover and let it stand for 10 minutes or till it is soft.Then use it in the recipe.
Happy cooking….