This month's Indian cooking challenge was a savory snack.Chegodilu /chakodi is a traditional snack from the state of Andrapradesh,India but also found in many snack stores in Tamilnadu.It is one of my favorite snack and I was very eager to try it out .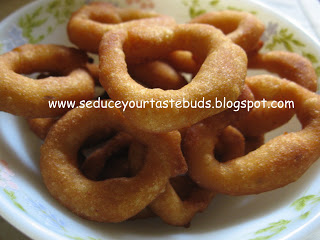 We were given two sets of procedures and I found the second one easy and tried it out almost as soon as the announcement was made.Yes,I was so eager to try it out.
Since I did not do a step by step procedure for last months Gulab jamun challenge,I made sure I captured each step.Now to the recipe
Chegodilu – Recipe 2
Ingredients:
Rice flour – 3/4 cup
All purpose flour/ Maida – 1/4 cup
Ghee – 2 tbsp
Ajwain – 1/4 tsp
Red chilli powder – 1/4 tsp
Turmeric really a pinch
Salt as per taste
Oil to deep fry
Boil 1 cup water in a bowl, add salt to it.
When the water starts boiling, remove from stove, add ajwain, red chilli powder, turmeric and flours. Stir with a ladle to make sure it is mixed well. Pour ghee on it and cover.
Once it cools, knead it to form smooth dough.
Pinch out small balls of dough and roll them like threads between your palm, bring the ends together to form into small rings.You can either cover it with a plate or a cloth to prevent the dough from getting dried.
Frying the chegodilu/chakodi
Heat a pan with oil, enough to fry 3 -4 at time, if you conscious of not using too much oil. Simmer once it gets hot. The temperature should not be smoking hot.
Check if the oil is in the correct temperature, by dropping a tiny bit into the oil. Then gently slide the rings or the chakodis in batches of 4 -5. The flame has to be on high until the chakodis come up to the surface, then lower the flame to medium and cook till you get a golden colour on the chakodis.
When the chakodis are golden all over, using a slotted ladle, remove to a kitchen towel and cool. Store in an air tight container for longer shelf life.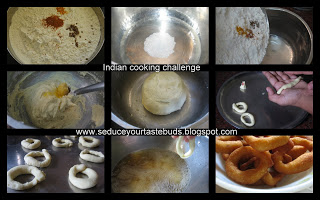 Notes: Remember to turn the heat to medium to high and high to medium for getting the chakodis to golden color and also to be cooked evenly. Only this way you get crispy chakodis. These should not be cooked on low flame as they will absorb more oil and can turn soggy also at times.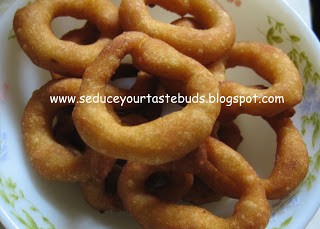 My notes:
The first time I tried it was exactly the way mentioned in the procedure above.But I got a dough consistency somewhere between dosa batter and Chapathi dough and I had to add more rice flour to get the dough of the right consistency.The snacks were not very crunchy.
The next time I heated water with salt and kept it aside.In a bowl,I mixed the other ingredients except oil[for frying] and added water little by little till I got the right dough consistency.I still had almost 1/4 cup water remaining.
So I guess there is something to do with the texture of rice flour and how 'old' it is.The older the rice flour the better the result.
This time,my snack was crunchy and yummmm…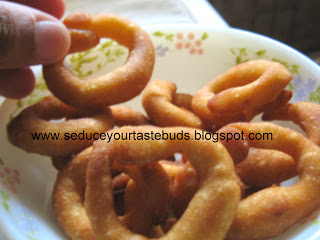 Happy cooking…