I am a person who loves winter. Hard to believe? But that's who I am. I grew up in a hill station and loved the cool climate and later when I had to move to the plains for higher education I totally hated the idea of having to spend the rest of my days there.
I landed in that town at the peak of summer and almost suffered a heat stroke. I used to beg dad everyday to take me back [to the place where I grew up] even if the colleges there did not have a wide choice of subjects. But dad knew what was good for me and pacified saying that I would come to love this place too. But I never did.
Until my wedding I lived in a place where summers were unbearable [to me] and when I learnt that hubby got a job in China just around the time we were engaged, I was ecstatic. I would be living in a new culture where the climate was just like the one I loved.
From the time we moved here I loved each winter though I came here for the first time when winter was in its full glory
I have to put on more warm clothes that makes me look bulky-but who cares I love winter; It's a pain to wake to early morning to cook and pack lunch for hubby-but who cares, I love winter; I don't feel like eating my favorite yoghurt-but who cares, I love winter!!! This is me!!!
I even went out last year just to catch a glimpse of snow- my first ever-at 9pm and stood there in the middle of the almost deserted road trying to catch the snow flakes. So now you know what kind of person I am.
Summer here is not so bad and I just love where I live.
A couple of months ago I went to India. After staying there for 2 months I had mixed feelings when it was time to return to our home in China. I was glad to be back, hubby was here and so were my friends but I was sad to leave my parents.
After some changes in the travel plans I did land here a couple of days ago dressed in nothing but Indian summer clothes. When I left for India I did not take any winter clothes with me and hence this kind of dressing. Hubby had got the necessary warm clothes for me and it was lying there inside the car in the airports car park.
Hubby offered his coat but I refused telling him that I could manage till we got to the car but by the time we located the car in the parking area I was freezing.
Now at home,I am all warm and cozy but the winter coupled with showers makes me crave for a warm meal-preferably a soup or tea.[If you had noticed this month features a lot of teas!].I definitely can't do with tea for lunch so soup it was.
I prepared this hearty lentil soup that was super warming and filling. I had planned to have it with a roll of bun, but the soup by itself was enough to curb my hunger pangs.
For a single portion you need:
Mixed legumes- ¼ cup,boiled
[ I used channa/ Garbanzo ,red bean and Lima beans]
Cherry tomatoes-3 finely chopped
Ginger garlic paste-1/2 a teaspoon
Spring onions -3 stalks chopped[separate white and greens]
Butter- 1 teaspoon
Cumin seeds/jeera-1 teaspoon
Salt and pepper to taste
1. Heat butter in a pan and put in the jeera.
2. When it splutters put in the ginger garlic paste, spring onion whites and sauté.
3. When spring onion whites turn transparent add the tomato and cook till it turns mushy.
4. Add the cooked legumes , enough water, salt and simmer for 5 minutes.
5. Remove from heat and serve garnished with spring onion greens and a dash of pepper.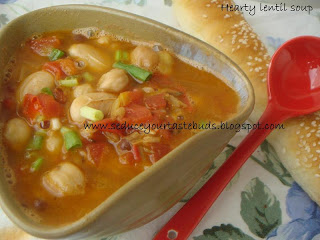 For a vegan version subsitute butter with cooking oil.
This super warmer goes to MLLA hosted by Srvalli.MMLA or My legume love affair is an event stareted by Susan
Happy cooking…