Each time my go to India,I make a huge list.Not shopping list but foodie list!The dishes I want mom to prepare and some dishes that I must have in my favorite restaurants.
Its not just the dishes but also some vegetables that I don't get here too.Like the small variety of brinjal,drumstick,pearl onion,ladies finger and of course my favorite baby potato.
As soon as I tell mom when I would be reaching there,she is all set to dish out my favorites.This time she had got loads of baby potatoes and I prepared Jeera aloo.Jeera aloo is a typical North Indian dish that is equally popular elsewhere too.
I somehow like jeera aloo when prepared with baby potatoes though it can also be prepared with the regular potatoes.Here is what I did.
I used:
Baby potatoes-1/4 kilo
Jeera/cumin-2 teaspoons
Red chilli powder-1 teaspoon[adjust to taste]
Turmeric powder-1/4 teaspoon
Curry leaves- a few
Oil-1 tablespoon
Salt to taste
Pressure cook potatoes till cooked but not mushy and remove the peel.
In a pan heat oil and add the cumin seeds and saute till it crackles.
Add curry leaves,turmeric powder,chilli powder,salt and boiled potatoes.
Mix well and let the flavors blend for a few minutes.
Remove from heat and serve with steamed rice/Chapathi/or just enjoy it as a snack!!!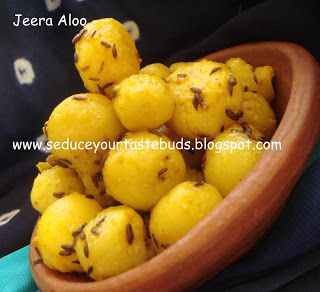 Note:
If baby potatoes are not available,cube large boiled potatoes and follow the recipes.
Sometimes I add a teaspoon of dry mango powder[amchur] / garam masala / chat masala for a different flavor.
An easy side dish ready in minutes!!
Happy cooking…