This is yet another dish that Ju's mom prepared for us when we visited them.A super salad that is best suited for hot summer days.[I know it is winter now but you can still bookmark this for later :)].
Peel
a cucumber
and put into a bowl.In another small bowl combine
Soy sauce [1 teaspoon],vinegar[1 teaspoon],Sesame oil[1 teaspoon] ,sugar[1/2 a teaspoon,optional]and salt to taste.
Pour over the cucumber pieces and mix well.
It is now ready to serve!!!
Can't get any simpler!!!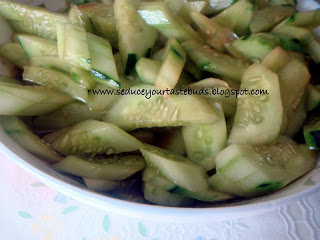 Happy cooking…