A simple vegetable dish today.Nothing fussy but absolutely delicious.A south Indian method of preparing potato curry.My ultimate favorite potato dish.
Imagine a' semi-cold day'.A plate of piping hot steamed rice and a bowl of onion sambar,a large bowl of potato podimas.Drizzle a teaspoon of ghee over the steamed rice and now you are all set to enter the super delicious zone!!!Yes, this is an utterly delectable combo!!!Well,this goes well with not only steamed rice and sambar but with all other rice preparations too.
You need:
Potato – 3 large ones[boiled ,peeled and mashed roughly]
Onion – 1 [Thinly sliced]
Turmeric powder – a pinch
Red chillies-4 /Chilli powder – to taste
Ginger grated-1 teaspoon
Curry leaves- a few
Salt to taste
Mustard-1 teaspoon
Jeera – 1 teaspoon
Oil-2 teaspoons
Heat oil in a pan and add the mustard and jeera.
When they crackle add the onions,ginger, curry leaves and red chillies .
Fry till onions turn translucent.
Now add roughly mashed potato,turmeric powder, chilli powder[if using instead of red chilli ],salt and mix well.
Cook for a few minutes stirring occasionally.
Remove from heat and serve with any rice dish.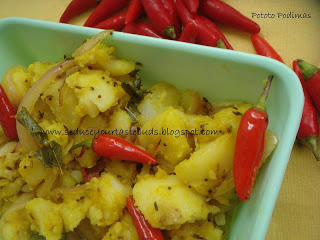 Happy cooking…