When I was on the lookout for some coffee/tea recipes,I came across this West Indies coffee.After browsing various sites,I saw that it had to be prepared with a pinch of salt-yea literally,u have to add salt!I was intrigued by this idea.I tried it and it was yum.
I used:
Milk- 1 cup
Instant coffee-1 teaspoon
Brown sugar- to taste
Salt – a pinch
In a cup put in the brown sugar,salt and coffee powder.
Heat milk and pour into cup.
Stir and sip!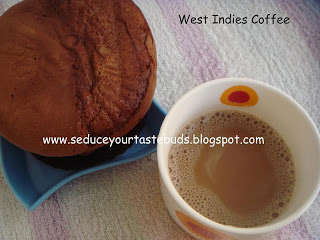 The taste was different with the brown sugar and salt butI liked it. In this pic you can see a really big muffin that we had with coffee.You can imagine how big it is as 4 of us shared that cake!
Anyways,with this warm cup of coffee I wish all my readers,friends and blogging buddies…
A very happy and prosperous New year
Filled with
All that is
Best and beautiful in life…
Happy cooking…