This weekend when we were wondering where to dine,I suggested Awashanzhai coz it a long time since we went there plus I needed some pics of the decor and other recipes that I had forgotten to click the previous time we had been there.
After a long walk and surprised by the short sudden hailstone rain,we reached the restaurant at 8pm.It was almost empty as their closing time is 9pm!
The menu cards were handed to us by a waitress who patiently answered my choices for vegetarian food.The menu card now sports a new look with a lot of colorful photos of the Miao and Tujia people.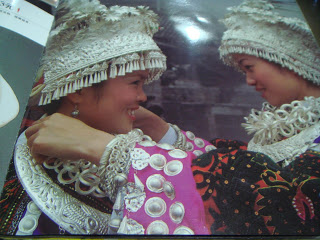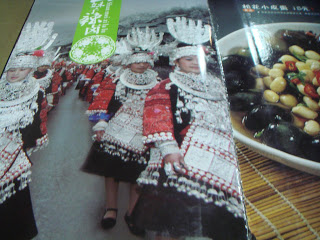 The menu card is full of colorful photos of the dish as well.[The earlier menu card had just the pics of the dishes.]
This time I ordered two new dishes.In the mean time another waitress set our plates,cups , bowls and chopsticks and filled our cups with hot green tea.Sipping them on a cold day really brightened my spirit!
Once both of them left the table I began clicking! Here are a few decors and the view of a section of the restaurant.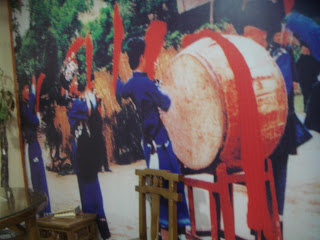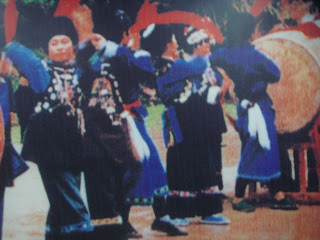 The restaurant was practically empty with just another couple seated at the other end.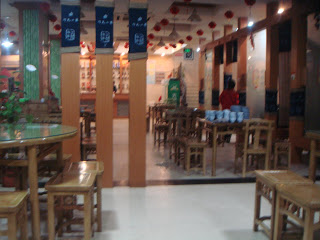 My dishes arrived…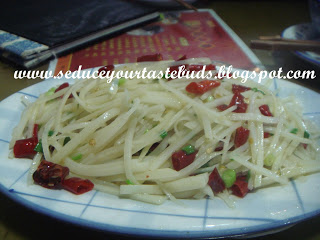 Hot and sour potato shreds[RMB 8].Looking at the amount of redchillies I was initially shocked but it tasted a little spicy and really sour!!The potato shreds were cooked but still had the crunch.I loved it.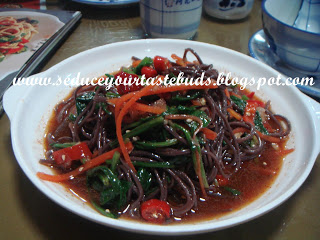 This one is the cold noodles[RMB 10]-Cold buckwheat noodles to be precise-my favorite.Just look at the sauce surrounding the noodles!!Looks fiery rite?Yes,its spicy and very tangy,not to mention quite oily but equally delicious!!It has some greens and shredded carrots to give a crunch,sesame seeds for the nutty flavor,of course red chillies for spice.
When I had almost finished my dinner,we ordered some noodles.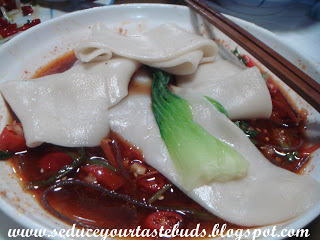 What you see here is the noodles.Broad thick ones that go very well with the spicy sauce from the noodles.There are around 10 'strips' of these noodles with a couple of bok choy leaves.These noodles are a little chewy and I love them with that fiery sauce!I could just have half the noodles from the bowl and hubby helped me finish the rest.
Wondering what I had the previous time I went there?Click here to read more…