Hope all of you had a wonderful weekend!After all the festive foods,here is a simple recipe for homemade peanut butter.Last week I had purchased quite a lot of peanuts forgetting the fact that I had lots more at home.So the excess peanut got transformed into peanut butter!
The net has many variations and I just prepared this one after going through them all.Some recommended the use of peanut oil but since I didn't have it,I used sunflower oil.Some recipes did not mention anything about the use of oil!So I just followed my mind and made this jar of chunky peanut butter.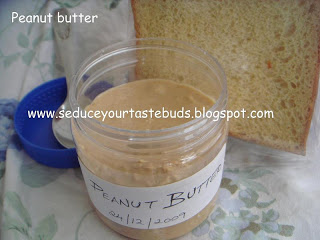 I used:
Lightly salted,roasted peanuts-200grams + a handful
Sunflower oil-1 tablespoon
In a blender/food processor put in 200grams peanuts and run it for a few minutes.
Scrape the sides and run the blender a few more times.
Repeat the process till the peanuts turn pasty.
Drizzle the oil and run it till you get the right consistency.
Using a rolling pin,crush a handful of peanuts roughly.
Remove the peanut butter from the blender jar into a container and put in the crushed peanuts.
Mix well and store in the refrigerator.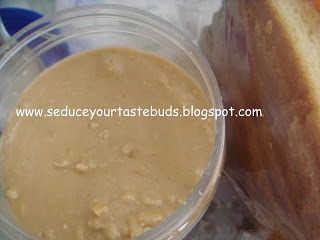 Note:
If you don't like chunky peanut butter,just skip step 4 and 5 for smooth peanut butter.
You can also add a little honey for a sweeter version.
If oil separates on top during storage,stir to mix and use.
Sending this jar of peanut to EC who is hosting MMLA-19 ,an event started by Susan.
Happy cooking…