Talking about Halwa, I have always relished them and my [maternal] grandpa is very famous for preparing the best 'melt-in-the-mouth' wheat halwa!
I had this notion that Halwas are to be savored and not to be tried at home[by me,that is].So when Srivalli announced this months recipe for Indian Cooking Challenge I was a little skeptical to try it out.
Yes,it is the very famous Moong dhal Halwa that I had savored years ago on a trip to Kasi,North India.I can still recollect the taste and loved the tiny piece of Halwa that was served there in one of the hotels along with the lunch menu.
But after going through the procedure which said it required constant stirring and may go wrong if left unattended even for a couple of minutes, I was wondering if I should try it at all.
The encouraging words of fellows bloggers sure did make me want to try it out but yet in the corner of my mind I still had a doubt if it would turn out well.What if it is a total flop?So I kept putting off the idea of preparing this dish.
Today being the deadline I had to prepare it and late yesterday noon,I ventured into the kitchen.A curious MIL stood beside me to see what the 'dietitian' was up to!
Before I tell you what became of the dish, have a glimpse of the result…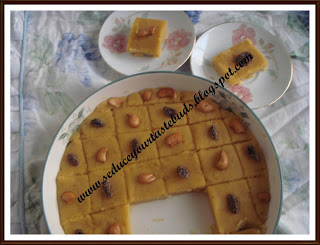 See,my fears were totally needless and I told myself that I should have tried it earlier,for the result was totally awesome.
The stirring part was a bit difficult and I kept the flame at the lowest so as to prevent scorching .By the time I finished with the preparation,my right arm was aching and could hardly hold the knife to cut the halwa to pieces.Yes,I stirred for more than an hour.But on tasting it all my aches,pains and the fears of preparing halwa vanished!The best part was that it did not turn lumpy at any stage.
Initially I wanted to do a step by step pictorial procedure but I did not want to risk the halwa by taking my hands off the ladle to click the pics.So all that you will see here is the time when the halwa came to the right consistency and I was confident enough to keep the ladle aside to click a pic.
I have to mention that ICC is the only place where I don't tweak the recipes to my taste.I did add extra ghee to get the halwa right but no other changes.A special thanks to dear bloggers Lataji and Simran's mom for their encouragement and guidance for this recipe.
Here comes the procedure.We were given two sets of procedures -one with khoya and one with milk .I used procedure 2.
Moong Dal Halwa
Soaking Time : Overnight
Preparation Time : 15 minutes
Cooking Time : 30 – 45 mins
Recipe 2 with just the dal
Split (Yellow) Moong dhal – 1 cup
Ghee – 1/2 cup
Sugar – 3/4 cups to 1 cup (as per required sweetness)
Milk – 1/2 cup
Cashews/ raisins roasted in ghee for garnish.
Method to Prepare:
Soak 1 cup moong dal overnight. Next morning, grind to a paste.
Heat a heavy Kadai, take initially only 1/2 of the ghee and heat it.
Add the dhal and stir continuously, not allowing lumps to form. This part is very tricky as the dhal cooks really fast, irrespective of the ghee.
Keep the heat at the lowest and keep stirring even after the dhal becomes thick.
Add the rest of the ghee intermittently and cook the dhal until aromatic and the ghee starts oozing out.
Meanwhile mix the sugar with milk in a pan and bring to a boil. Add this slowly to the cooking dhal.
Keep the fire low at all times and break lumps if formed while adding the sugar and milk mix.
Cook until the ghee surfaces.
Garnish with cashews and raisins.
Notes :
Use a thick bottom pan or better nonstick pan
Don't leave the halwa unattended. The dal can stick and it can go from just done to burnt in a second so keep stirring as much as possible. You should remember to keep stirring to prevent dhal from sticking irrespective of the ghee added.
You aren't looking for the halwa to get too thick when you turn off the heat. It was thicken as it cools.
Cook until ghee surfaces on the sides and the halwa attains a very nice shine.
Initially, it may appear that all the ghee is being used up. But as the dhal cooks the ghee separates. So the ghee measure is sufficient.
In both recipes depending on how you got the moong dal paste, you may require slightly more ghee to get the texture
Roasting it a bit gives more fragrance.
My notes:
I roasted the moondhal before soaking it.This was an optional step but I went ahead with it coz it would give a delicious aroma to the end product.
While preparing this dish,I was worried if I had ground the roasted moong with more water since I was not sure how much water had to used.So it was a guess work .
As I mentioned earlier,it did not turn lumpy at any stage.
As the cooking proceeded,the halwa was still pasty and after adding milk and sugar mixture it was even more watery and still pale yellow.
Yet I kept stirring and stirring.Halfway through MIL suggested that we add more ghee and after adding almost half a cup of ghee ,I got this consistency.[I added more than half a cup of extra ghee than that was mentioned in the procedure.]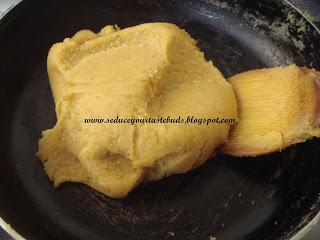 The halwa thickened and left the sides of the pan.This happened in a matter of seconds and I was totally amazed to see it happen so quick.I had been stirring for almost an hour before I got this consistency.
On gently pressing the halwa at this stage,the ghee oozed out and I decided to take it off the pan and transferred it onto a greased plate.I spread the halwa with the back of a spatula to get an even surface.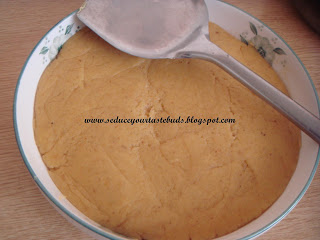 After it cooled a bit[but was still warm] I marked the pieces with a greased knife and garnished them with roasted cashews and raisins.
Here is a closer look of these delicious bites….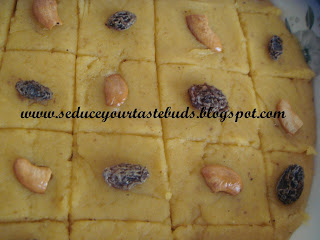 After about half an hour,it was ready to be cut into pieces and served.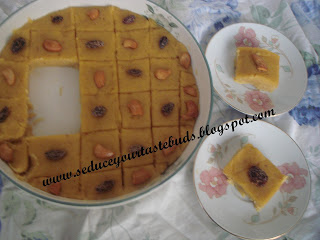 I was actually proud and felt a sense of achievement due to the fact that I had prepared this halwa without an accident/disappointment mainly for the reason that it came out very well on the very first try!!
The procedure was not as scary as I had imagined so I will definitely be trying it again .The next time I will add a little more sugar though.
All I can say is that making halwa isn't a nightmare like I had expected it to be and this challenge sure gave me the courage to try out other varieties of halwa too.Thanks Srivalli for choosing this halwa for the challenge.
Happy cooking…