Does the title of the post give you a feel that I was bored to cook and made this dish instead.Sorry folk,you are entirely mistaken!
This weekend did prepare an elaborate lunch but when I finished cooking I realized that I was too bored to eat them!I wanted something spicy and filling and a soup!Then I realized I had could prepare spicy noodles with soup!And thus was born this recipe.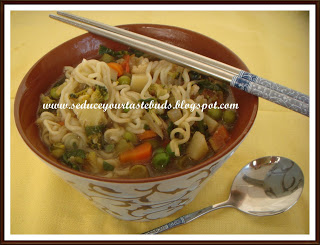 I used:
Noodles- 1 pack with the seasoning
Finely chopped veggies-2 fistfuls [carrot,broccoli,cauliflower,peas,tomato,potato,beans,mushroom,greens]
Salt to taste
In a large microwave proof dish put in all the ingredients , add enough water and microwave on high for 12 minutes or till done.
Serve hot!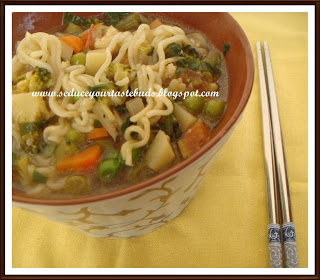 I can't even call this a recipe but I was happy with the result.A slurp and a bite-a yummy lunch!!!This soup did make me full and also has those nutrients!I was glad I didn't opt for the dishes from the lunch menu :).Good that I was 'bored'[Now you get my meaning of 'bored',rite?']
Sending this to Usha's Healthy inspiration events- soups