A south Indian meal would be incomplete without this dish.It has in it all the goodness and taste that is hard not to fall in love with it.
A combination of rice ,lentils,vegetables and spices makes this dish a one pot meal.It is that kind of dish where you put all the stuff in a pot and forget about it until you have switch off the stove-A dish that requires no supervision.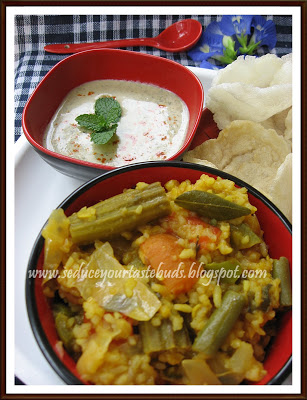 I used:
Rice-1 cup
Toor dhal-1/2 a cup
Sambar powder – 2 teaspoons
Mixed vegetables – 2 cups[Brinjal,carrot,potato,beans,peas,cauliflower,cabbage]
Onion-1,chopped
Tomato-1 chopped
Tamarind extract-1 tablespoon,thick
Mustard-1 teaspoon
Jeera-1 teaspoon
Turmeric powder-1/4 teaspoon
Curry leaves – a few
Oil-2 teaspoons
Salt to taste
Wash rice and dhal in several changes of water and keep aside.
Heat oil in a pressure cooker and put in mustard,jeera and curry leaves
When they splutter add the onion and saute till soft.
Put in tomato and cook for a few seconds.
Add all the vegetables and stir .
Put in 4 cups of water and bring to a boil..The principle is that we add a little more water to the rice:water ratio you usually use as this dish has to be a little gooey. Sometimes I add more water and when I am not in a mood for a gooey rice, I add the right quantity of water…
Put in rice,dhal,sambar powder,salt,tamarind extract and mix well.
Cover and pressure cook for 15 minutes or till done.
Stir and serve hot with crispies of your chioce or with a raita.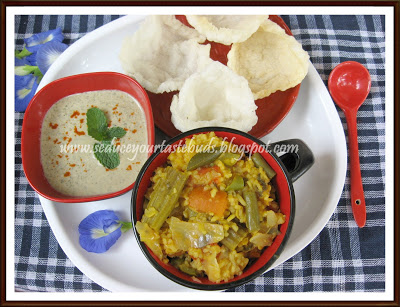 Bon Appetit!!