Today is indeed special!We are welcoming a new year filled with joy,love,fun and laughter.This day is also very special to me for another reason.My 'bloggy' baby turns 3 today!!!For the past two years this little baby of mine has been a constant source of inspiration and a great companion as well.
So here I am welcoming the new year and celebrating this little baby's birthday with a simple yet delicious Microwave carrot halwa…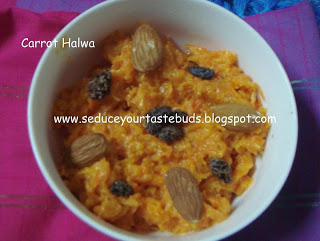 I used:
Carrot-1 cup,grated
Milk-1 cup
Condensed milk-2 tablespoons
Sugar-less than 1/4 cup,adjust to taste
Ghee-1 tablespoon
Roasted almonds/raisins to garnish
Microwave ghee for a few seconds till it melts.
Put in carrot,mix well and microwave on high for 5 minutes stirring at the end of every 2 minutes.
Add milk,sugar and condensed milk and sugar.Mix well.
Microwave on high for 15 minutes or till the milk has been absorbed fully.[Stir once every 5 minutes]
Garnish with roasted almonds and raisins.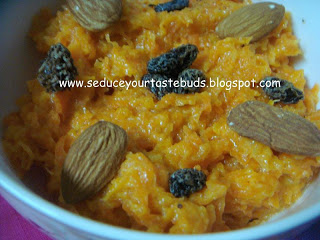 Carrot halwa can also be prepared on the stove top.Here is how you prepare the famous Nawabi dessert…
Updated:Sending this to Food for 7 stages of life-4th edition,hosted by Radhika and Sudeshna
Happy New year…