I first saw this in Priya's blog, and immediately wanted to prepare it.I have modified the recipe slightly. The texture of this adai is really soft and we loved it.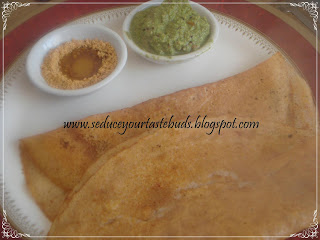 I used:
Barley-2 cups
Rice-1/2 a cup
Mixed lemtils -2 cups[Urad dhal,toor dhal,gram dhal,moong dhal,soya bean]
Red chillies-10
Ginger-1" piece
Cumin seeds-1 teaspoon
Curry leaves- a few
Asafoetida powder-1/8th teaspoon
Salt to taste
1. Soak barley,rice and lentils,red chillies overnight.
2. Drain and grind in batches along with ginger using a little water to get a batter that is neither too smooth nor coarse.
3. In a large bowl put in the ground batter and add cumin seeds,salt,asafetida,curry leaves and mix well.
4. Adjust the consistency of batter by adding water[It should be slightly thicker than dosa batter]
5. Heat a griddle and pour a ladle full of batter and spread to a circle.
6. Cover and cook till the edges leave the griddle.
7. Flip it over and cook.
8. Remove from heat and serve with chutney / sambar /Milagai podi.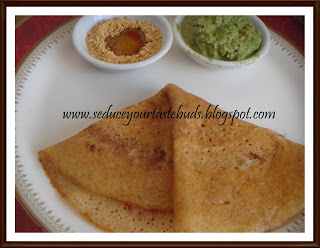 I even made it like masal dosa with Bazaar jaisey aloo and it was yum!!!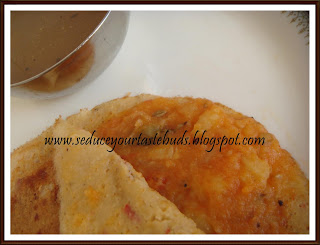 Bon Appetit…