This one is adapted from Jaya's Blog.She had cooked it for 'This book makes me cook' and on reading it I was literally drooling. This recipe is from Madhur Jaffery's book -'Climbing the mango trees' where she talks about her childhood , her life and of course food!!
After reading Jaya's review on Madhur Jaffrey's dishes and book, I was tempted to make this one and after preparing it I now want to read her book!
The color of this dish may look fiery but the taste is so good that you will be making this often. The spices give out a wonder taste that is sure to please your tastebuds.
Here is the original recipe from Jaya's blog.[I have changed it a bit.]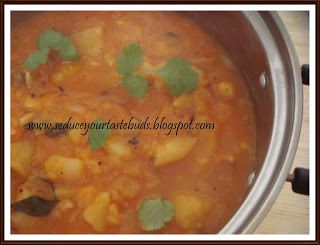 I used:
Potatoes- 4 ,peeled and halved
Tomato-3,large and ripe,finely chopped
Cumin seeds-1 tablespoon
Fennel seeds-1 teaspoon
Fenugreek seeds-1/4 teaspoon
Red chillies -3
Grated ginger-1 tablespoon
Curry leaves – a few
Asafoetida- a pinch
Oil-2 teaspoons
Salt to taste
1. Boil the potato,cool and crumble them coarsely
2. Heat oil in a pan and put in cumin seeds, fennel, fenugreek , chillies,asafetida, curry leaves.
3. After a few seconds add the grated ginger and sauté for a minute.
4. Add the tomatoes and cook till the it is mushy and color turns deep red.At this stage oil will ooze out from the tomato.
5. Lower the heat and add around 1 cup water,salt and add the coarsely crumbled potato. Stir and bring to a boil.
6. Cover and simmer for 5 minutes stirring a couple of times in between.
7. Remove from heat and serve
This is a great side dish with Chapathi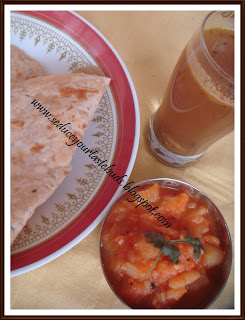 Chapathi
with Bazaar jaisy aloo and
poondu rasam
I had some leftovers and used it as a filling for Barley adai and it tasted great too!!!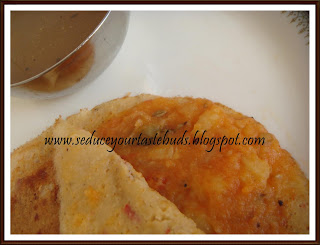 Bon Appetit…