I don't know if anyone prepares this dish with farfelle [I have seen a lot with penne and not with farfelle].Since I had a huge bag of farfelle pasta ,I tried it out and it was so addictive!! Simple ingredients but very delicious.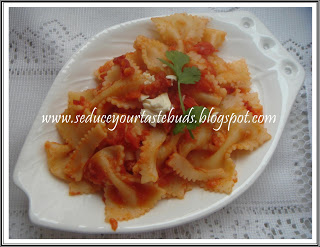 I used:
Farfelle – 1 cup
Tomato -1 large,chopped
Garlic-3 cloves,grated
Red chilli flakes -1 teaspoon
Oil- 1 teaspoon
Grated low fat cheese, coriander leaves to garnish
Salt to taste
1. Boil the pasta according to the direction on the pack with a little salt.
2. Drain and run over cold water and keep aside.
3. Heat oil in a pan and put in garlic and cook till garlic turns brown.
4. Put in tomato and chilli flakes and cook till tomato turns mushy.
5. Put in cooked pasta and mix well to coat.Add a little water if the mixture is too dry.
6. Add salt if required.
7. Cook on low flame for few more minutes and serve hot garnished with coriander and grated cheese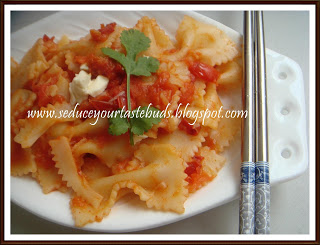 Sending this to Jothi's Pasta party.