Porridge maybe referred to as 'Poor man's food' but in our home,we call it 'Week end breakfast'!
There is story behind this – as usual!!One day when I was sick[yea with that terrible thing called 'cold and cough'],I wasn't hungry at all yet I needed some nourishment.
My dear friend Ju had got a pack of porridge mix a few days ago and had left it in my kitchen.She suggested that I try porridge for dinner.I was a little hesitant but she went ahead to prepare it.
The procedure -very simple-Put the mix in a bowl,add lots of water and pressure cook for 15 minutes!!But the result was amazing!!!A spoonful of piping hot porridge with a tiny bit of pickle was good enough to put me back on track!
So this porridge kinda became a common thing in our kitchen when someone is in no mood for any other dishes.One fine day hubby said he wanted porridge for breakfast on a weekend and thus the ritual started.From then on it has been porridge for breakfast on weekends!
I too liked this idea.I can sleep late and no hassles for preparing an elaborate breakfast!!!
There are several kinds of porridge mixes that are available in the stores and here are a few of them.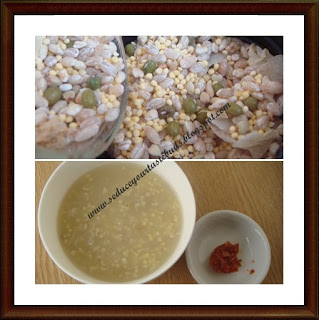 Each mix has a variety of ingredients and are definitely healthy.It is a mix of grains and lentils that make it nutritious.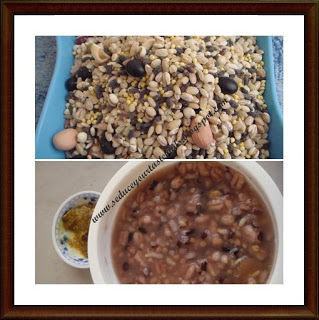 The grains include Rice,forbidden rice,Chinese sticky rice, brown rice,barley,buckwheat,wheat etc.The legumes are whole moong,red bean,groundnuts,black bean etc.Apart from grains and lentils they also have red dates,lotus seeds,Yiner[a kind of dried fungus that's very good for the body],orange rinds.All these little extras add flavor.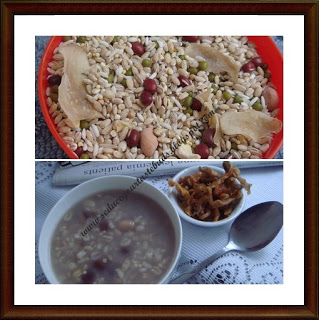 Each time we buy,the combination keeps changing and its not boring too!I always look forward to what will be in our porridge mix each time I plan to buy.The cost per 500grams is between 6-8 RMB depending on the ingredients.Now I plan to make my own mix.Just buy all the ingredients,mix and store.
Since it needs no supervision during cooking[just pressure cook it with enough water] and needs no special side dish[just a spoon of pickle/spicy chutney] its a real convenient dish!
What more can I ask but for an inexpensive,quick and nutritious breakfast each week!!!