With a whole bag of fresh coriander leaves and peas sitting in the fridge,I was happy to see this recipe in The Singing Chef!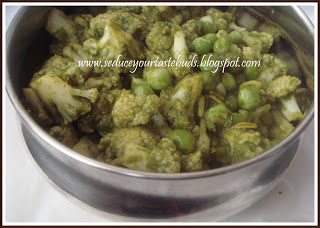 I used:[The original recipe is here]
Cauliflower- 1, medium sized,broken into florets
Peas – ½ a cup
Cumin seeds- 1 teaspoon
Oil- 1 teaspoon
Asafoetida- a pinch
Salt to taste
Grind to a paste adding very little water
Coriander- a small bunch
Green chillies -2
Ginger- a small piece
Garlic – 2 pods
1. Boil the cauliflower and peas till tender.
2. Heat oil in a pan and put in asafetida and cumin seeds
3. When they crackle add the ground paste and cook for a couple of minutes
4. Put in boiled cauliflower, peas and salt.
5. Mix well and cook till the mixture is dry.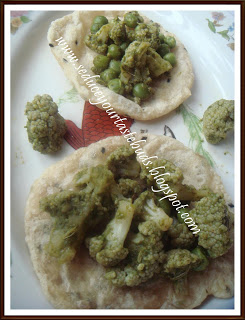 Can be served with steamed rice /Chapathi / Poori.
This is for Divya @ Dil Se who is hosting this month's edition of Tried and tasted
Recipes posted today..
Coriander Cauliflower peas curry
Happy Cooking…