This too, as with any recipe, has zillion varieties.Each and every family having their own preferred version of this delicious and filling soup.Some prefer it thick,some with more tomatoes,some with just a wee bit of chickpeas and a whole lots of additions and deletions.
This soup that I made is a blend of the various recipes that I looked up for and I have tried to stay as close to the original recipe as possible but the chief inspiration for this soup comes from Dk's- Chef In You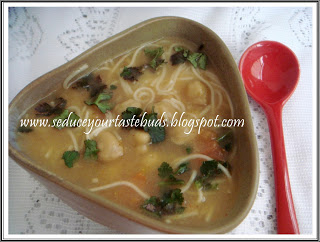 I used:
Boiled chickpeas / Garbanzo beans- ½ a cup
Boiled lentils – ¼ cup
Rice vermicelli- a fistful
Onion-1,chopped
Tomato-1 chopped
Cinammon- 1" piece
Ginger- ½ a teaspoon grated
Coriander leaves to garnish
For the Tadouria [Mix these together and keep aside]
All purpose flour – 1 teaspoon
Tomato paste- 1 teaspoon
Lemon juice- ½ a teaspoon
Coriander leaves –a few sprigs
1. Heat oil in a pan and put in onion and a bit of coriander leaves and saute till onions are translucent.
2. Put in ginger, Cinnamon, tomato and cook till tomato is mushy.
3. Add enough water and put in cooked lentils and chick peas. Let it come to a boil.
4. Simmer and ad the tadouria and stir well.
5. Add the vermicelli and cook till it is soft.
6. Add salt and mix well.
Serve hot garnished with coriander leaves.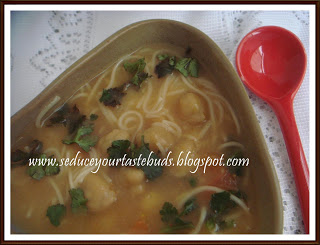 Note :
If you prepare this ahead of time, it tends to thicken. Reheat it with a little hot water and be sure to check for salt before serving.
Off this goes to 5th Mediterranean cooking event-Morocco hosted by Tobias.
Also sending it to Lisa for No croutons required where this months theme is garbanzo bean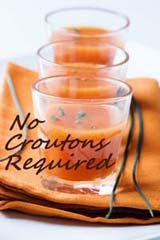 Recipes posted today:
Moroccan Spiced Instant Coffee
Happy cooking…