I did not want to miss this month's edition of AWED hosted @ Tasty curry leaf.The theme this month is the exquisite Greek cuisine!!
I made this Kolokythakia Tiganita- A very tasty and easy recipe which turned out to be very crunchy and yumm.
I used:
Zucchini – 1 ,thinly sliced
All purpose flour – 1 cup
Bottled soda
Salt to taste
Oil to deep fry
Prepare batter in a large bowl.Put in flour,salt and soda & prepare a batter of coating consistency.Beat well and keep aside.
Heat oil in a pan.
Dip the Zucchini slices in the batter and drop them in oil.
Deep fry till golden brown.
Remove from oil into a plate lined with absorbent paper.
Serve with a dip of your choice.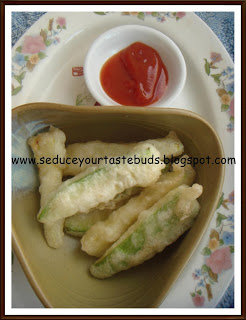 Note :
The key to crispness is in slicing the zucchini very thinly.
Happy munching…