I have 3 Moroccan recipes for today. Why this sudden interest you might ask. I just remembered that Tobias is hosting Mediterranean cooking event and I am late so posting all the recipes on the same day.
When I searched for Moroccan recipes I found that the spice used in Moroccan cuisine is somewhat similar to the ones used in Indian cuisine!!Yes there are so many similarities, like the use of ginger, cinnamon, black pepper, cumin, turmeric, anise, nutmeg, saffron , sesame seeds, fenugreek seeds,bay leaf!!!!So it is but natural to fall in love with this cuisine.
When I started looking out for dishes in Moroccan cuisine I started with main dishes and zeroed on Moroccan spaghetti.There are so many versions of this that I put together all of them and made this for breakfast today.It was indeed very delicious and colorful!!The method is very simple and the result is full of flavor.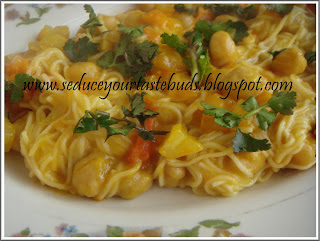 I used:
Spaghetti- 1 small pack
Onion-1,chopped
Tomato-1,chopped
Garlic cloves- 3,grated
Turmeric powder- a pinch
Cooked chick pea-1/2 a cup
Tomato paste-1 tablespoon
Salt to taste
Olive oil-1 teaspoon
Cook the spaghetti as per the instructions and keep aside
Heat oil in a pan and saute onion and garlic till onion is translucent
Add the tomato,tomato paste and turmeric powder,salt and cook till the tomato is soft
Add the chickpea and cook for 2 minutes
Add the cooked spaghetti and mix.
Serve garnished with coriander leaves.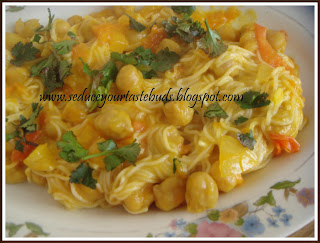 Off this goes to 5th Mediterranean cooking event-Morocco hosted by Tobias.
Recipes posted today :
Harira-Moroccan Lentil Tomato Soup
Moroccan spiced Instant coffee
Bon appetit…