Though the Moroccan people are fond of Mint tea ,I read that they also like to take coffee and other juices. Here is a spiced coffee that is sure to please all coffee-lovers.
I used:
Milk-1 cup
Instant coffee-1 ½ teaspoons
Cinnamon powder – ¼ teaspoon
Ginger powder- ¼ teaspoon
Cardamom powder- a pinch
Black Pepper powder- a pinch
Sugar to taste
1. Heat milk in a pan till it starts to boil, then simmer till skin is formed.
2. Discard the skin and put in the instant coffee, spices and sugar.
3. Mix well, strain into cups and serve hot.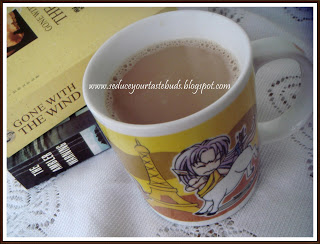 This also goes to the 5th Mediterranean cooking event-Morocco hosted by Tobias.
Recipes posted today:
Harira-Moroccan Lentil Tomato Soup