What happens when people at home ask for some fruits and you bring them and find them lying around with no one paying the slightest attention to them? They turn into weird dishes in my home !!
The large pineapple that came home with me a couple of days ago was lying on the table with no one except me having a couple of slices. So I thought it was time to change its form into a side dish.
I used-
Pineapple – ½ cubed
Green chillies- 2
Ginger -1" piece grated
Oil- ½ a teaspoon
Mustard – ½ a teaspoon
Urad dhal – ½ a teaspoon
Curry leaves a few
Red chilli -1 ,broken into bits
Salt to taste
1. Grind together pineapple ,green chillies and ginger.If the pineapple is juicey[like the one I used] don't add water.Remove to a serving dish
2. Heat oil in a small pan and put in mustard,urd dhal ,curry leaves and red chilies and fry till the dal turns brown.
3. Pour over the chutney,add salt and mix
Serve as a side dish.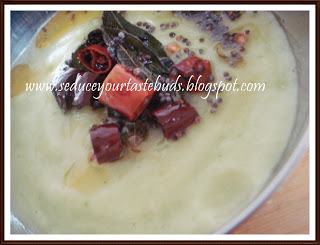 Don't go by the looks of this dish.The sweet- sour-slightly spicy combination is something worth trying…
Sending this to Think beyond the usual – Fruits hosted by Nithu Bala.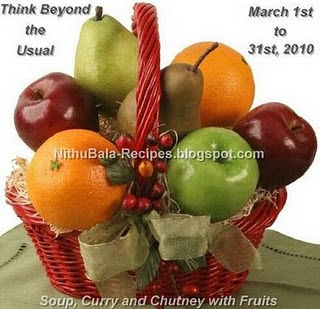 Also posted today is the SPB shake
Happy cooking…