Yet another dish fromRaaga who is in the spot light this month for Tried and Tasted hosted by Divya of Dil Se…
I was always using zucchini in chutney or put them in sambar until I saw this in Raaga's blog.Very Simple and I am glad I tried it.Except for the seasoning,I have made no changes from the original recipe
I used:
Zucchini -1 small,peeled and chopped
Moong dhal- ½ a cup
Sambar powder- 2 teaspoons
Grated coconut- 2 teaspoons
Urad dhal- 1 teaspoon
Cumin 1 ½ teaspoon
Oil-1 teaspoon
Curry leaves a few
Red chillies – 2
Mustard -1 teaspoon
Asafoetida powder- a pinch
Salt to taste
1. Pressure cook zucchini,moong dhal and sambar powder with a little water for 10 minutes or till done.
2. Heat oil in a pan and fry urad dhal till brown.
3. Cool and grind to a paste with coconut and 1 teaspoon cumin seeds
4. Heat a pan and put in cooked zucchini –moong mixture and add the ground paste and salt
5. Mix well and adjust consistency by adding a little water if required.
6. Let it simmer for 5 minutes and remove into a serving dish
7. Heat a small pan with oil and put in mustard,cumin seeds, curry leaves and red chillies.
8. When the seasoning crackle pour over the kootu,mix .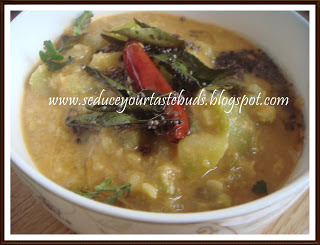 Serve with warm steamed rice / Chapathi.
Recipes posted today..
Coriander Cauliflower peas curry
Bon Appetit…