This vegetable stew is a wonderful side dish to prepare when you are desperate to clean the contents of your refrigerator.Its also handy when u have very few vegetables and wondering what to prepare.Sounds intriguing?
Well,this is one such curry where you can throw in any vegetable and add a little coconut milk for extra flavor and you will find your folks begging you to make it often!!!!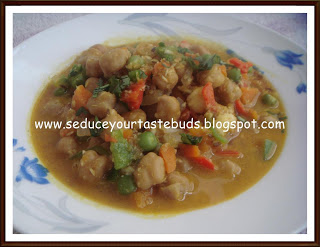 I used:
Carrot-1/2
Red bell pepper-1
Green bell pepper-1
Beans-5 numbers
Peas-a handful
Boiled garbanzo -a handful
Tomato-1
Zucchini-1/2
Coconut milk-1 cup
Garlic-2 cloves
Onion-1
Cinnamon-a small piece
Cloves-2
Chilli powder-1 teaspoon
Bay leaf-1
Cumin seeds-1 teaspoon
Oil- 1 teaspoon
Salt to taste
Chop all the vegetables into even sized pieces and microwave adding a little water on high for 5 minutes till almost done.[all vegetables except onion,garlic,tomato]
In a pan heat oil and add cumin,Cinnamon,cloves,bay leaves.
When it crackles add onion and garlic.
Saute till onion is translucent.
Put in tomato and cook till soft.
Put in cooked vegetables,coconut milk,boiled garbanzo beans,chilli powder,salt.
Adjust the consistency by adding a little water if required.
Bring to a boil and simmer for 2 minutes
Remove from flame and serve as a side dish garnished with coriander leaves….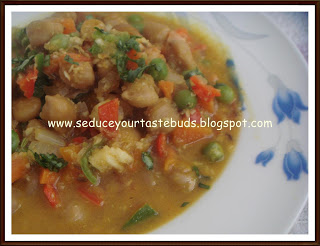 Does this sound familiar??It ought to !!!Its very similar to South Indian Kurma!!!!
This flavorful stew is off to join the other dishes @ AWED African,an event started by dear Divya
Bon Appetit…