I have already told you about my obsession with Egypt.Here is yet another breakfast dish from my dreamland.I made it more like a curry than as a gravy.This dish has an interesting history.It is said to date back to the age of the Pharaohs!Now doesn't it make you all the more eager to try it out?
Ful is Fava beans and this dish is served with pita bread / Fried eggs.I served it as a curry with rice and salad.This can be prepared with fresh fava bean or the dried brown variety.If using the dried lentils,soak it overnight and then proceed.
I used:
Fresh fava beans – 1 cup
Tomato-1,chopped
Onion-1 chopped
Garlic-2 pods crushed
Coriander powder-1 teaspoon
Cumin seeds-1 teaspoon
Red Chilli powder-1 teaspoon
Lemon juice-1 teaspoon
Oil-2 teaspoons
Salt to taste
To garnish-Coriander leaves/mint leaves/spring onion greens
Cook the beans with enough water till done .Drain and keep aside.
Heat oil in a pan and put in the cumin seeds and when it crackles add the onion and garlic.
When the onion turns translucent add the tomato and cook till mushy.
Put in coriander powder,chilli powder,salt and cook till the raw smell is gone.
Add the cooked beans and simmer for a few minutes.
Just before serving drizzle lemon juice and serve garnished.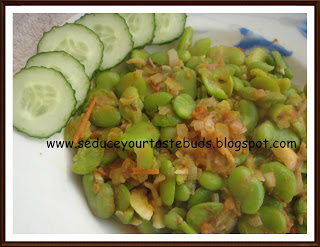 Note:
It can be made like a gravy for as dip with pita bread.Add enough water in step 4 and simmer till the desired consistency is got.
There are other methods which use only salt,pepper and olive oil.
This is off to AWED African hosted here and to vegetable marathon hosted @Anita's Kitchen,where the theme is 'Beans'.
Happy cooking…