EGYPT- This is a place I would love to visit. It is a kind of feeling like I lived there sometime! Maybe I am kidding.Maybe it is true!!!I fell in love with this exotic destination after reading the novel – Sphinx by Robin Cook.
It is one-of-the-kind thriller packed with suspense and I could never put down without completing the last chapter. I have read that book 'God-knows-how-many' times and yet I would love to read it again!!! Such is the book!!
In this book the authors takes us through the streets of Egypt and the reading it I strongly felt I must visit Egypt at least once in my life time.
So when I announced
AWED African
, the first thing I did was search for some Egyptian recipes and here is the first amongst my finds. A cinnamon tea from my dream land! Maybe it's the name that made me want to try it in the first place, or maybe I wanted to be familiar with the dishes in the place I am desperate to visit. What ever be the reason, its worth the try….
I used:
Water- 1 cup Cinnamon – a small piece Sugar to taste Mixed nuts, chopped- 1 tablespoon
Put in water, cinnamon stick and sugar in a pan and heat. Simmer till the water turns light brown. Remove the cinnamon stick and pour into a cup. Serve topped with chopped nuts..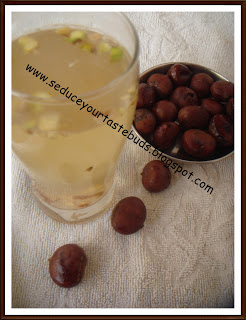 Bon appetit…