The lil one in the house is getting super naughty and very talkative.I have to answer a hundred questions everyday that sometimes I feel so tired just listening to her ask questions.Yes,this is the time the child explores the things around her and I don't want to discourage her thereby hindering her learning process.But sometimes I am stumped.I have no answer for her questions.Then there are times when I can't answer her queries!!!
The other day a conversation went about like this..I was chopping tomatoes at that time…
Lil angel-What is this ma?
Me-Tomato
LA-What tomato?
Me-….er…its called Bangalore tomato…
LA-What Bangalore?
Me-Bangalore is a place
LA-Where is that place?
Me-Its quite far away dear.
LA-How far away..
Me…Mmm..its near that aunties home
LA-Which aunt?
Me-Remember that aunt who gave u those soft and fluffy chapathis?
LA-Ok…Where is that aunt now?
Me-Same place where we visited her
LA-When did we visit her?
….
……
Do I need to continue!!!!Perhaps not,let me spare you the rest of the conversation which started with tomato ,went to Bangalore, Mysore,traveled back to grandpa's home and finally settled on potato.
She saw a basket of potatoes and asked 'Why is it sooo tiny'?
'Baby potatoes ' ,I replied.
'Oh, for this baby',she squealed with delight!!.
'Yes ,this is for my dear little baby',I replied.
'No ma,this is naught little baby',she said patting her tummy.
All I could was laugh and hug her tight.
Here is the Baby Potato in Red Sauce specially prepared for the naughty lil angel.This dish came into existence after I read this recipe from Prathiba's blog-The Chef and her kitchen.I modified it a little .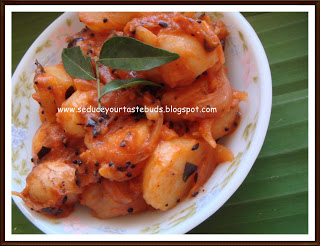 I used:
Baby potato – 1/4 kilo
Tomato -2,ripe
Onion-1 ,finely sliced
Cumin seeds-1 teaspoon
Mustard-1 teaspoon
Turmeric powder-a scant pinch
Red chilli powder-1/2 a teaspoon
Cumin powder- 1/2 a teaspoon
Curry leaves a few
Salt to taste
Oil-1 teaspoon
Scrub the potato and pressure cook then for 1o minutes or till done.Cool and remove the jackets.Keep aside
Blanch tomato and puree.
In a pan heat oil and put in mustard,cumin seeds,curry leaves.
When the mustard splutters put in onion and saute till translucent.
Next in goes the tomato puree,salt,chilli powder,cumin powder and turmeric powder.
Mix well and cook till it thickens.
Put in the baby potato and mix to coat.
Remove from heat once the tomato puree is almost dry.
Serve as a side dish with steamed rice.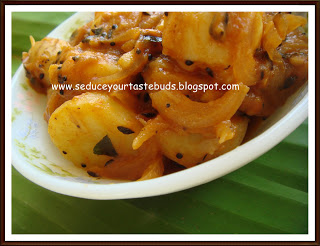 A serving of this dish is being packed off to Sara's blog where she is hosting Cooking with seeds-Cumin seeds,an event started by Priya of Priya's easy n tasty recipes.
Here are some delicious recipes with baby potatoes…
Jeera Aloo – Cumin flavored Baby potatoes
Methi Aloo – Baby potatoes with fenugreek leaves.
Happy cooking…