The day dawned in tune with her spirits.Lakshmi had been crying most of the previous night.And yes,it was pouring all night and now there was very slight drizzle that seemed to go on for a couple of hours.Lakshmi let out an occasional sob for she was too tired to cry.How well mother nature reflected her mood!!
Lakshmi looked at the thin figure sleeping on the worn out mat beside her.Her daughter,a frail girl of 8,was fast asleep.She fondly brushed away a few stray stands from her forehead and sighed.Why was life so cruel to her?
Her sister and brothers were well settled-not that they lived in a mansion,but reasonably well off,and didn't have to worry about the next meal.Their children were put in government schools and their future was better that what was in store for her daughter,Niru.
Lakshmi sighed again.She was the sole reason for this miserable life.She had been adamant to get married to the man of her choice much against the wishes for her widowed mother and kins.She argued that he was a man who could be trusted and after all he earned well for her was the driver for one of the important person in town.Still her mom did not accept this proposal, so she decided to take matters in her hands.One fine day amidst the Gods and Goddesses in a small village temple she tied knot with Gopal.
Life was exciting for the first few days of her wedding.He got her all that they needed to set up a home and even a few sarees and gilded ornaments.Gopal's boss invited them for lunch one day and gifted them with cash to help them around with the expenses.
At first Gopal used to hand over the salary to Lakshmi and she would try to run the household with that amount.Slowly the money that Gopal gave her began to dwindle until one day she realized he was using most of the money on wine!
She screamed and fought with him and a guilty Gopal promised to never touch that horrible thing again.That's when she broke the news that they were expecting an addition to the family.A joyous Gopal ran to his boss share the news and that gentleman again gave him an envelope .All night Lakshmi waited for her husband to return .The next morning a kind neighbor informed her that he was lying near a highway and was fully drunk.She guessed what had happened and when she was about to go and fetch him,Gopal came home staggering and fell down right in front of their home.
Slowly the habit got the better of him and his boss had no choice but to fire him.He did not want to be laughed at for employing a drunkard.But his sweet wife took in Lakshmi to help her around with the cooking and the household.This angered Gopal further.
Life had been a constant struggle from then.Many a times she wanted to run to her mom and cry out all her sorrows but her self respect prevented her from doing so.So she bore all the miseries in silence.
A few months later a cute little girl was born who was the only source of joy to Lakshmi.She tried to provide her daughter with the barest necessities and many a times she had foregone meals so that her little one could have a hearty lunch.As she grew up,her father became abusive,often hitting both mom and daughter for money.
She would tell the lady about her miseries and she had always given the same advice-Get away from this town and start afresh with your daughter.She was one of the best maids the lady had ever had and believed that Lakshmi could earn well enough in other towns too.But Laksmi who was bound by customs and tradition did not want to separate from her husband and so she had to put up with him.
One day ,out of the blue,he came home early and spoke lovingly to Niru and Lakshmi.His affection melted Niru but Lakshmi knew more about Gopal than to trust his sudden affection.Slowly Gopal came out with the truth that someone from a very far off place[she didn't even understand the name of that city!] want a small girl to play with their daughter and Gopal had given his consent to send Niru so that she would be looked after and fed well.
Lakshmi doubted his words and when discussing this with the Lady,she found out that Niru was not being sent as a playmate but to work in a factory as a bonded labor.Her husband in turn would get a ransom and she was sure he would spent that within a week.He had sold their daughter!!!Arguments continued and it turned into abuse.How could a father sell his daughter to meet his needs!!She had to decide between the lil one and the love of her life.'Did she still love him',she wondered….
The little girl wriggled as if she would wake up any minute.Quietly Lakshmi wiped her eyes and went out and washed herself.Her lil one needed breakfast and she had to prepare it before that drunkard husband of hers came and gobbled all that she prepared for Niru.
She had borrowed some ingredients from her neighbor to prepare breakfast and she sat in front of the stone grinder and started grinding the batter and Niru came out rubbing the sleep off her eyes.She grinned at her mom who was holding the batter, for it was for her favorite breakfast -Kaara Rotti ,an rare treat!!!
Before I go on here is how you make this kaara rotti:
You need:
Rice- 2 cups
Toor dhal-1/2 a cup
Gram dhal-1/2 a cup
Moong dhal-1/4 a cup
Red chillies- 5
Turmeric powder-a pinch
Ginger-1″ piece
Garlic-5 pods
Cinnamon-1″ piece
Fennel seeds-1 teaspoon
Salt to taste
Optional:
Finely chopped onions
Chopped Curry leaves
Grated coconut
1. Soak the rice and the dhals,red chillies for at least 4-5 hours.
2. Wash and drain the water and grind to a coarse batter along with ginger,garlic,fennel seeds,cinnamon.The batter should be slightly thicker than dosa batter.
3. Add turmeric powder and salt and mix well.
4. Just before preparation add finely chopped onions,curry leaves,grated coconut and mix well.
5.Pour a ladleful of batter on a heated griddle and spread to a circle.Drizzle oil around the edges[optional]
6.Cover and cook till it is crisp.
7.Flip it over and cook for a minute
Remove from heat and serve hot with a chutney / sambar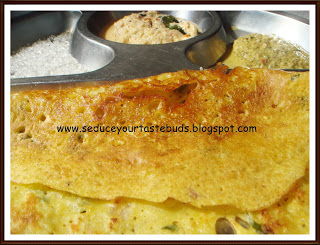 Kaara rotti served with sugar,chilli-coconut chutney,coriander chutney
Note:
To enhance the taste of the rotti ,you can roast the dhal before soaking.
Similarly can roast the fennel and cinnamon too.
It you don't prefer the raw taste/crunchiness of onions ,you can saute the onions with a little oil for a few minutes and add to batter.
Niru finished off 3 rotti's before picking up her school bag and hurrying off to the nearby government school.Lakshmi was glad that she had prepared her daughters favorite breakfast and content that the next meal for her would be provided in the school.
She cleared the dishes and her mind and went off to meet the Lady.Niru came home tired and sat to write her homework.Coffee or tea was luxury.A cup of water was all that they could afford.Suddenly she asked,
'Why were you and appa so angry last night?I was so scared that I wanted to run away from home…'
That was the last straw.Laksmi smiled and said,'Things will change from tomorrow,don't worry Niru'.
The little girl ate the remains of the meal from the Lady's home and slept.Lakshmi stayed awake hoping for that the man that she loved would come back as always and be the same person who would look after them.As the clocked ticked away ,she made up her mind.
Just before dawn she awakened Niru and gave her porridge to drink.She picked up a bag and passed on Niru's School bag.There was a look of determination on her face.
Hand in hand mother and daughter walked out into the cool morning.The day was just beginning to dawn.The sky was clear and it promised to be a sunny day.How well Mother nature reflected her mood!!!!
This food and fiction is off to Sandeepa who is hosting Chalks and Chopsticks 2 nd edition ,Aqua who hosted the first edition.
Poverty and addiction in most instances lead to the parents 'selling off' their children.I have heard it through my maid but the characters in this fiction is imaginary.