I have been thinking for a while if I should change the blogs name to something like 'Simple-and-easy-ways to seduce your tastebuds' or 'Easy breezy ways to seduce your tastebuds' .Of late most of my recipes have the these words-'Simple and easy' in them.I am cooking very less of elaborate dishes and posting what have been in my drafts for sometime.Of course I am on a holiday and that means I cook less and eat more[of what was cooked by someone else :)].I did indulge in a large piece of pizza,thanks to my nephew who made it very clear that all the dieting and stuff can wait till I return to 'my' home and is not possible while on vacation!!!Lil angel 'fed' me here chocolate cake coz coz she felt it was too 'chocolatey',function ,wedding and more indulgence have made my dieting or rather the road to healthy eating a very bumpy one.
So when I craved fro something very light and easy breezy,aval upma came to my mind all for the reason it was in my drafts for more than a year and I kept postponing posting the recipe because it lacked a decent pic.But then Think Spice-Think Tamarind made me think the better of it and so here is the yummy recipe with a 'not-so-yummy' pic…Will surely update it when I make it the next time.
I used:
Poha/Pressed rice/Aval-1 cup
Tamarind extract
Mustard-1 teaspoon
Cumin seeds-1 teaspoon
Gram Dhal-1 teaspoon
Red chillies-3
Curry leaves a few
Oil-1 teaspoon
Salt to taste
Wash the aval/poha a couple of time and drain.
Put the poha in a vessel and sprinkle tamarind extract over it and mix well.After a few minutes repeat this process till the poha is soft.Sometimes the poha many taste tangy even before it is soft,then replace the tamarind extract with water.
In a pan heat oil and put in mustard,cumin seeds,gram dhal,redchillies,curry leaves and when the dhal turns brown add the soft poha and salt.
Mix well and cover for minute,remoce from heat and serve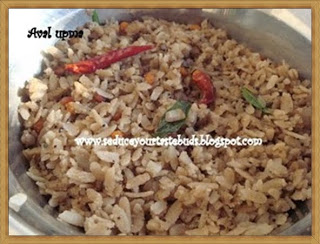 The best part it it does not involve too little cooking and ans as I always say its very easy,simple and tasty…
Note:
There are two varieties of Pressed rice – the thick and thin varieties.
If you are using the thin variety, wash the Pressed rice in a colander and use immediately.If you let it stand too long,it will get soggy.
If using the thick variety,wash it and put in a vessel.Sprinkle a little water/tamarind extract,cover and let it stand for 10 minutes or till it is soft.Then use it in the recipe.
You might also like to to try out these varieties with pressed rice
Sweet Poha – A healthy and sweet dish that kids will adore
Kande pohe – A dish straight from Maharastra
Aval upma – The regular method
Curd aval – Delicious and cooling pressed rice in seasoned yogurt.
Tangy Aval Upma – Upma with a tangy lemony twist
Bon Appetit…