Call it Chaat ,Salad or Snack,this is a healthier option against any other snacks and is filling and tasty.You can prepare this within minutes if using canned chickpeas.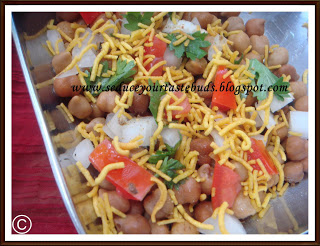 Basically this has no measurements.As with the other chaats use your creativity and alter the ingredients to suit your taste.
In a serving plate place
cooked chickpeas.
Next comes
chopped onion and tomato.
Sprinkle
chaat masala.
Garnish with
chopped coriander/mint leaves and sev.
Before serving sprinkle
a little lemon juice.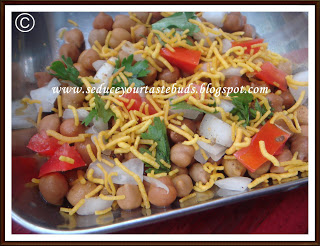 Isn't it yum!!!!
This simple chaat is off to join Diana,who is hosting MLLA-24 @ A little bit of Spain in Iowa. MLLA is an event started by Susan…
Here are some other chaats to try…
Bhel Puri -A chatpata chaat prepared with puffed rice….
Pani Puri -Crunchy puris filled with potato and channa and dipped in a yummy coriander based spicy water….
Bread Chaat-Tasty way to use left over bread…
Channa Salad – Channa in spicy coriander sauce…
Happy Snacking…