A few years ago two people joined hands to be man and wife,to start a new life together.They went through their ups and downs,joys and sorrows without letting go of each other and today they step into their fifth year of togetherness.
They would like to share their togetherness and joy with you with this bowl of dessert-Palada pradhaman….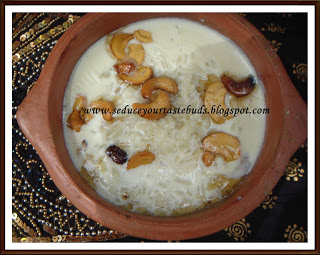 Marriage is not just the union of two heart.Well, it is to a certain extent but I believe it is more to do with mutual trust and understand,sacrifices and compromises,caring and sharing,plus a lot more to ensure a blissful wedded life.
I found these beautiful quotes on the net…
Chains do not hold a marriage together. It is threads, hundreds of tiny threads which sew people together through the years. ~Simone Signoret
Success in marriage does not come merely through finding the right mate, but through being the right mate. ~Barnett R. Brickner
A successful marriage requires falling in love many times, always with the same person. ~Mignon McLaughlin
If you feel I went overboard with sentiments,here is something to laugh at..
Why can't women tell jokes? Because we marry them!
Marrying a man is like buying something you've been admiring for a long time in a shop window. You may love it when you get it home, but it doesn't always go with everything in the house.
In olden times, sacrifices were made at the altar, a practice that still continues.
A man's wife has more power over him than the state has.
Marriage is give and take. You'd better give it to her or she'll take it anyway.
Well,jokes apart,like everyone else,its my wish to live the life that I dreamt to live and enjoy many more years of togetherness….
I made this Palada Pradhaman this morning.Its a very simple recipe nothing to elaborate , nothing too fussy.I got a packet of Palada mix from the groceries and made the payasam with it.Palada pradhaman is a traditional dessert from God's own country-Kerala.It is prepared specially for Vishu feast.Today I wanted a different sweet and this made this one.Since the quantity seemed to be insufficient,I added a little of pressed rice for a thicker consistency. Ready-made Palada Pradhaman mix is available in the stores and the quantity of sugar was way too much[that's what I felt] so I separated the ada and used only half the sugar from the mix.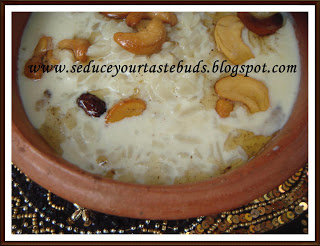 This is what I did….
Heat 1 teaspoon ghee in a pan and put in 1/2 a cup of pressed rice.
Roast on low heat for a few minutes taking care not to char the pressed rice.Remove from heat and keep aside.
Roast cashews and raisins in a little ghee and keep aside.
In the same pan put in 1 liter milk and add the contents of the palada mix [it has ada,sugar and cardamom powder] and simmer for 10 minutes or till the quantity of milk reduces to 3/4 .
Put in the roasted pressed rice and simmer.Stir once in awhile.Cook till it is soft.
Remove from heat and serve garnished with cashews and raisins.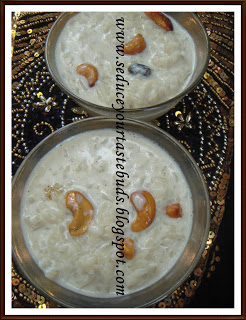 If you are planning to prepare this ahead of time,you will notice that the pressed rice has absorbed most of the milk on standing for sometime.Add a little warm milk/water ,mix well and serve.
Now I am off to enjoy my bowl of dessert….