Here is an easy way to blanch tomatoes in just a few seconds!!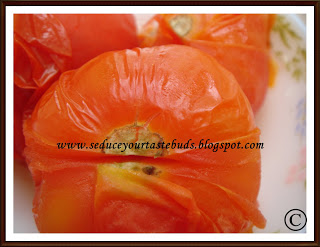 Now to the post,when I was thinking about a suitable theme for Srivalli's Microwave Easy Cooking[MEC] event which I am hosting right now,I thought of all the dishes that can be prepared exclusively in the MW and all of them were hosted already.Then I thought why not I host Favorites and the first thing that came to my mind was to blanch tomatoes.
Blanching tomatoes is not exactly a recipe and its really no big deal.We all do it on stove tops for the preparing puree for soups,chutney's,rasam and gravies.Blanching tomatoes is a breeze in MW and it hardly takes a minute.When I started cooking this was the first one to try and it has stayed since.
All I do is slit the tomatoes halfway and put in them in a microwave proof bowl with a little water and microwave for 30-45 seconds on high.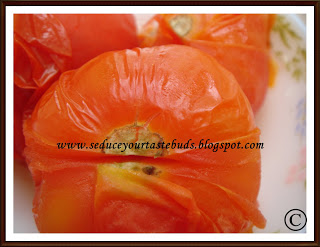 The timing may vary with the brand and also with the quantity of tomatoes used.As you can see from the pic above,these tomatoes can be easily peeled and pureed and used in any recipe you need.
I use Microwave oven to prepare everything from basic like this one to bake cakes.What are your favorite dishes that you prepare exclusively in the MW?Do share them with us in our MEC event.
Updated:Taking a hint [ 😉 ] ,I am sending this off to Jayas Back to Basics Event.